Elemental LED Announces Lower Prices on Popular Replacement LED Light Bulbs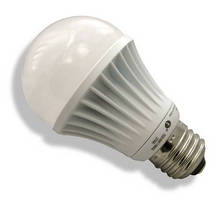 The LED lighting retailer cuts prices on three screw-in LED light bulbs by up to 45%, signaling a similar trend throughout the industry.

San Francisco, CA - Elemental LED, a San Francisco Bay Area-based LED lighting company, recently cut prices on its popular Tess Bulbs, the LED Replacement Bulbs with a standard e26/27 screw-in base and cutting-edge Cree LED chips. 6W Tess Bulbs, a replacement for standard incandescent 30W bulbs, were $29.99 and are now $17.99. 7W Tess Bulbs, equivalent to 40W incandescent bulbs, were $34.99 and are now $19.99. 9W Tess Bulbs, a 60W replacement, were $39.99 and are now $21.99.

Elemental LED introduced the Tess Bulb to its catalog last year as a top-of-the-line product with significant improvements in function and light quality to that of its LED replacement light bulb predecessors. Tess Bulbs are UL listed and feature Cree LED chips, top-rated for their brightness and energy-efficiency. According to Cree, "Cree LEDs combine highly efficient InGaN [Indium gallium nitride] materials with proprietary GoSIC® substrates to deliver superior price/performance for high-intensity LEDs."

The prices of LED light bulbs and fixtures are decreasing dramatically throughout the industry, making them an economically viable option for consumers. The price decrease follows similar trends of other consumer electronic products, for which a gradual increase in demand and consumption leads to a dramatic lowering of prices.

Features of the Tess LED Light Bulb include no flickering or humming, a durable housing that is difficult to break, no warm-up time required, and no mercury. Containment of toxic mercury, flickering, humming, fragility and slow warm-up are all well documented problems with CFLs. The Tess Bulb lasts for 50,000 hours, 10 to 50 times longer than a standard incandescent bulb or CFL, and uses 20% as much energy as an incandescent bulb.

The Tess Bulb is available in a warm white color temperature, which creates an inviting, smooth, even light for indoor living spaces. It is also available in neutral white, which works well against metal and cool color tones or outdoors.

The decrease in prices by Elemental LED signals that the company is positioning itself as a viable competitor to big box retailers. "We are top of the market when it comes to quality and customer service," says Director of Business Development Matthew John, "In the past some of our competitors have beat us in terms of price, but that is quickly changing."

To learn more about the Tess LED Light Bulb, please visit www.elementalled.com.

About Elemental LED

Elemental LED is where style and affordability meet sustainable lighting. Elemental LED offers a wide selection of LED lighting products for home and business owners, including LED strip lights, light bars, puck lights, wall washers, light bulbs, controllers, power supplies and more. Products include color-changing, dimming and waterproof functionality. Elemental LED offers in house engineering and comprehensive customer service and education, from live phone support to online tutorials. LED lighting technology is the safest, hippest, and most energy efficient way to light up the world. Learn more at www.elementalled.com.


More from Electrical Equipment & Systems