Electro-Matic Products Full Color HyperionPlus LED Display Gets Attention in McKeesport, PA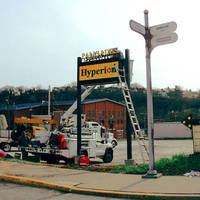 Palisades' new electronic sign gets attention



A Blairsville company erected the marquee; the whole project took 8 days to complete start to finish



A Blairsville company has erected a new $35,000 electronic sign to call attention to events at McKeesport's Palisades.



"It was eight days from start to finish," Lee Smith of Victory Signs said of the work capped on Saturday with a new digital marquee along the corner of Gibson Way and Lysle Boulevard, just off the Jerome Bridge and about two blocks from the Palisades.



"I set the poles (on Friday)," Smith said. "I put everything else up (on Saturday)." Victory Signs is co-owned by Smith and his fiancé Sarah Wolfe. The sign utilizes the Electro-Matic system produced by Hyperion Outdoor LED Signs of Farmington Hills, Mich.



"It's a more personable system," Smith said, meaning it would be easier to maintain. The $35,000 is covered by funds leftover from previous grants for work on the Palisades, Mayor Michael Cherepko told McKeesport city council in December. He was commenting on more than $175,000 in work done on the ballroom along Fifth Avenue and Joe Bendel Way.



"I look forward to upgrading these facilities even further to expand the number and variety of events it can house," the mayor said. "This facility, in conjunction with the (Great Allegheny Passage and the Marina at McKees Point), is once again making our great city an extraordinary place to visit for all our surrounding communities."



Patrick Cloonan is a staff writer for Trib Total Media.



Electro-Matic Products, located in Farmington Hills, Michigan has been a leader in developing LED Displays and Lighting for over 20 years. Our LED programmable displays are available in a wide range of options from single color indoor electronic message centers to vibrant, full color large format LED Displays. Build your LED Display online today at  http://www.empvisualsolutions.com/Sign-Builder or call today to speak with an LED Display Specialist at 866-998-0990.

More from Agricultural & Farming Products