Eaton Introduces the TVSS Power Event Monitor - a Diagnostic Tool for Electrical Distribution Systems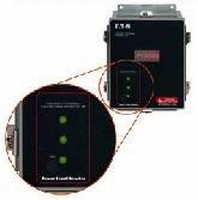 PITTSBURGH ... Diversified industrial manufacturer Eaton Corporation (NYSE: ETN) today announced the launch of the newest addition to its Innovative Technology® transient voltage surge suppressor (TVSS) product line, the Eaton TVSS Power Event Monitor. While the transient voltage surge suppressor protects the electrical distribution system from harmful transient voltages, the Power Event Monitor notifies the facility personnel of where and when such surges occur. With storm season upon us, the Power Event Monitor helps users gauge and monitor power surges, whether onsite or remotely via Ethernet capabilities, so corrective actions can be taken.

The Power Event Monitor is integrated into TVSS devices without increasing the size of the footprint. Mounted on the door inside the TVSS, the Power Event Monitor continuously monitors the system while recording and storing power quality disturbances. These records help facility managers pinpoint the source of harmful power events and decide whether or not to take corrective measures. The Power Event Monitor's sophisticated diagnostic capabilities allow technicians to determine optimal conditions for the operation of particular systems. Therefore, the Power Event Monitor is not only essential for maintaining the health of a system, but also its efficiency, uptime and reliability.

Power Event Monitor collects real-time data for up to 5000 events and provides immediate notification. Event data, complete with date and time stamp, can be sent via Modbus to individuals on site, at a remote data center, or to a laptop computer. By utilizing Ethernet capabilities, technicians can instantly access all monitoring and event data by using Power Event Monitor software. This software enables users to readily access all information gathered by the Power Event Monitor, regardless of the user's location. Consequently, whether you are in the facility or at home, all data collected by the Power Event Monitor can be accessed immediately.

The Power Event Monitor is engineered to operate efficiently amid harsh conditions. It has been field tested and is suitable for conditions such as marine offshore environments, remote pumping stations, communication tower sites, highly secure military applications, manufacturing and process plants and for operation on system voltage configurations from 120 to 600 VAC. The Power Event Monitor is available as a value-added upgrade to new Innovative Technology TVSS products from the factory.

In the electrical industry, Eaton is a global leader in electrical control, power distribution, and industrial automation products and services. Through advanced product development, world class manufacturing methods and global engineering services and support, Eaton provides customer-driven solutions under brand names such as Cutler-Hammer®, Powerware®, Durant®, Heinemann®, Holec(TM), and MEM®, which globally serve the changing needs of the industrial, utility, light commercial, residential, and OEM markets. For more information, visit www.eatonelectrical.com.

Eaton Corporation is a diversified industrial manufacturer with 2005 sales of $11.1 billion. Eaton is a global leader in electrical systems and components for power quality, distribution and control; fluid power systems and services for industrial, mobile and aircraft equipment; intelligent truck drivetrain systems for safety and fuel economy; and automotive engine air management systems, powertrain solutions and specialty controls for performance, fuel economy and safety. Eaton has 59,000 employees and sells products to customers in more than 125 countries. For more information, visit www.eaton.com.

More from Materials