EasyErgo Clients Can Now Custom-Design the Perfect Standing Desk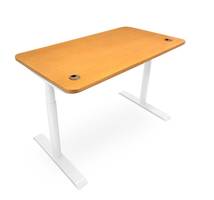 An industry leader in standing desks has expanded its custom options for customers.
SAN FRANCISCO (PRWEB) OCTOBER 30, 2018 - Representatives with San Francisco-based EasyErgo announced today that customers are now able to custom-design the perfect standing desk.
"We're very excited to be able to provide this as an option for current customers and new customers," said Nicholas Arko, managing director for EasyErgo, a company that specializes in affordable standing desks custom designed to meet customers' needs.
In an effort to empower startups and small tech companies in Silicon Valley/Bay Area with affordable office workspaces, EasyErgo made it possible for companies to get the desks they need in an affordable way with the launch of their standing desks. And now customers can custom-design their very own standing desk and have it perfectly made for them.
Arko explained that the process is quick and easy.
In fact, all customers have to do, according to Arko, is provide their name; email address; how many desks they want; select the size top they want; choose from over a dozen different laminate types; select the corner style they prefer; add cable grommets; select their color base; when they want to receive their desk, and provide their delivery address.
"Traditionally speaking, choosing office furniture has involved a limited number of options in a process that amounts to 'take it or leave it.' Our custom design feature lets you build the perfect desk, and makes it fun,'" Arko said.
As to how customers rate EasyErgo's standing desks, one customer identified as Carrie K. of Homeshare recommended it to any startup or tech company in search of affordable standing desks and noted that she is delighted with her purchase.
"It moves quickly and quietly with minimal distraction," she said.
However, she isn't the only one raving about EasyErgo's standing desks. Mitch T. of Gladly gave it two thumbs up too, describing the standing desk as, "stunning and strong; a supreme standing desk."
For more information, please visit easyergo.co/products/affordable-standing-desk
About EasyErgo
The most important distinction between any company is its culture. It's the genetic code of your team, and it's written in the beliefs, habits, and norms that make up your entire organization. Shouldn't your office space reflect that very same bond of exclusivity? With EasyErgo you can create something unique that communicates your company culture.
Contact Details
Nick Arko
1185 Campbell Ave 
San Jose, CA 951261
Contact Details:
+1-628-333-9398
More from Computer Hardware & Peripherals