DVS Digital Video Systems GmbH Exhibits Its Newest OEM Product Hydra at NAB 2007. OEM customers present their products equipped with DVS boards at the DVS booth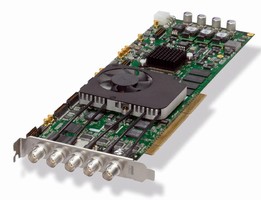 DVS Digital Video Systems GmbH exhibits its newest OEM product
Hydra at NAB 2007. OEM customers present their products equipped
with DVS boards at the DVS booth.

Hanover/Las Vegas. From April 16th to April 19th 2007 DVS presents its well-known OEM products
in a different light. Renowned manufacturers of digital video systems and OEM customers of DVS
exhibit their own products with their integrated DVS I/O boards at the DVS booth SL2608.
Another highlight in the field of OEM: Hydra, the new JPEG2000 board offers customers
decompression of JPEG2000 in SD, HD and 2K in real time.

Hydra is a PCI-X board for uncompressed input and output of audio and video material as well as
for decompression of JPEG2000 in real time. Hydra supports SD, HD, 2K, and further formats
specified by DCI and offers 16 AES/EBU or embedded audio channels.

Hydra performs decoding and decompression of JPEG2000 material for Digital Cinema
applications. These processes take place in real time from SD, HD and 2K material as well as
several other formats specified by the DCI (Digital Cinema Initiative). The data can be received as
RGB, YUV or X'Y'Z' data in MXF or JP2 and the hardware extracts the components from the MXF
file when necessary.

Up to two dual-link 4:4:4 or three single-link 4:2:2 channels are supported simultaneously. The
new I/O board is ideal for implementing stereoscopic display applications in Digital Cinema, multichannel
applications in broadcast or multi-screen applications in the presentation area.

All OEM boards from DVS are equipped with a new SDK that allows the assignment of
independent I/O links as separate audio and video streams. Centaurus II performs a downscaling
of 2K to HD and HD to SD.

Juergen Heger, Senior Product Manager at DVS: "We are setting a new standard with our I/O
board Hydra. Our OEM customers will thus be able to participate in the business of Digital Cinema
at an early stage. As the only board worldwide Hydra can perform JPEG2000 decompression in 2K
and this in real time."

The software and hardware manufacturer DVS is based in Hanover, Germany and Los Angeles,
USA achieved sustained success in 2006. DVS presented another milestone in its software
development: The innovative data manager Spycer® was announced "Pick of Show award from
IBC 2006". In the same year a new line of disk recorders came to market: Pronto2K.2 and
ProntoHD.2 enable real-time multi-resolution capture and play-out combined with full conforming.
Besides its turnkey solutions, DVS also focuses on its successful OEM business. The successor of
the popular Centaurus® board, Centaurus II, is available since late 2006. The special highlight of
Centaurus II: Along with CLIPSTER® it easily manages 4K. With this the German company
strengthens its role as a leading-edge pioneer in the 4K field.

Post production houses both large and small worldwide and the broadcast industry, too, have DVS
products in daily operation. R&D departments also use DVS systems for their development work of
multimedia applications. Moreover, DVS has teamed up with ARRI, Kodak, FujiTV, Imagica and
The Mill. The company has a large OEM customer base as well: Numerous leaders in the industry,
e.g. Digital Vision, integrate powerful DVS video I/O boards in their own products, thus enhancing
their performance.


More from Chemicals & Gases