Duro-Tank(TM) Uses Biodegradable Solvent to Protect Workers and Environment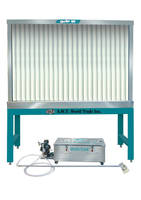 CHICAGO-October 19, 2009 If being environmentally conscious and worker friendly is high on your priority list, you might want to consider A.W.T's Duro-Tank(TM) Stainless Steel Recirculating System as part of your cleaning process.

Designed for use with a washout sink, the Duro-Tank Stainless-Steel Recirculating system uses biodegradable chemistry (like A.W.T.'s Safe-T-Wash) to clean a variety of objects. As a cost-effective option to large ultrasonic machines and vapor degreasers, the Duro-Tank system is perfect for manual parts and component cleanup. After the cleaning solution is applied directly to the part through a one-piece wand and scrub brush, it drains back into the tank where it is filtered and re-circulated. This closed-loop recirculating system uses progressive multistage filtering to significantly extend solvent life and can reduce chemical consumption by as much as 80 percent. Disposal costs are also less, and because direct contact with cleaning solution is minimized, worker safety is improved.

The Duro-Tank uses no electricity and needs only a standard compressor to power the onboard air pump, making the unit safe to use in environments where VOC's may be present. Permanent stainless-steel filters are removable for fast and easy cleaning. Available in 20-, 40-, and 80-gallon capacities, the Duro-Tank works with any biodegradable chemistry and washout sink.

For more information on the Duro-Tank Stainless-Steel Recirculating System contact:

A.W.T. World Trade, Inc.

4321 N. Knox Ave.,

Chicago, IL 60641-1906, U.S.A.

Phone: 773-777-7100

e-mail: sales@awt-gpi.com

or go to www.awt-gpi.com/product109.htm for a direct link to more product information.

A.W.T. World Trade (www.awt-gpi.com) is part of The A.W.T. World Trade Group. Formed in 2002 with the acquisition of the American M&M Screen Printing Equipment division, The A.W.T. World Trade Group's in-house team of professionals combines more than a century of experience in design and engineering. As a result, the organization is emerging as one of the nation's fastest-growing manufacturer of screen-printing equipment, parts and supplies. Other divisions of The A.W.T. World Trade Group include Graphic Parts International Inc., an industry leader providing replacement spares and remanufacturing (www.gpiparts.com); and American M&M, manufacturer of such well-known and respected screen printing equipment as the Cameo, Hercules, Centurian and Daytona presses (www.screenprintmachinery.com).

In addition to a worldwide network of distributors and dealers, The A.W.T. World Trade Group has its corporate headquarters and manufacturing facility in Chicago, a sales office in Fort Atkinson, Wisconsin, and both sales and distribution centers in Miami, serving Central and South America, and in Almere, Holland, serving Europe.

More from Sensors, Monitors & Transducers