Durden Enterprises Designs One-Piece Medical Airway, Made Possible by Utilizing Gas-Assist Injection Molding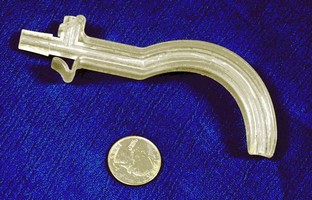 After attending a presentation describing the injection molding of a PVC p-trap used in the air conditioning industry, which was made possible by the use of gas assist technology, we capitalized on the technology to design a cost-competitive, one-piece medical airway with a molded-in hollow channel.

The design called for four different sized airways per shoot. Our design involved balancing the cavities by volume, achievable by varying the size of the overflow packets for each size, the theory being that each part would fill to about 90-95 % of capacity using equal gate runners. This would also allow us to shoot gas through the nozzle of the molding machine and equalize distribution in each cavity. This successfully allowed us to produce multi-sized parts, in a single shot, in a hollow tube geometry that could not be tooled in any other manner.

A special thanks to the owner of the airway Dr. Henry Wall, the gas companies Alliance, Gain, and Nitrojection, and Delta Tool for their assistance in making us a success.

About Durden Enterprises, Inc.
Located outside of Atlanta, Georgia, in the Southeast U.S., we produce quality tooling in aluminum and steel for molding plastic parts in both prototype and production quantities. Our in house capabilities include use of Pro Engineer, six full time tool makers, stereolithography, injection molding on machines ranging from 28 ton to 250 ton, and secondary processes including pad printing, ultrasonic welding, hot stamping, and assembly.


More from Agricultural & Farming Products