Electric Wire, Cable and Cable Assemblies
Duraline's New Line of Generator Cables and Accessories Provide Durable and Easy to Use Solutions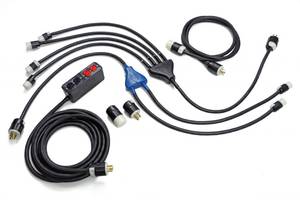 Duraline has produced high quality safe and reliable power distribution products for over 70 years and is continuously researching and developing new products in the business and private sector.
In October 2016, Hurricane Matthew made land fall and significantly impacted thousands of businesses and homes in the southeast United States. Because of this catastrophic event, Duraline identified a need for safe, weather proof generator cables to ensure that when an unexpected power outage occurs you can power the essentials that you need in your home or business.
Duraline's NEW line of Generator cables and accessories provide durable and easy to use solutions for any standard L14-30 receptacle, commonly found in household and commercially available generators.
The L14-30 connector provides 208vac single-phase power output allowing you to get maximum use of your generator by utilizing a split-phase 120vac system. All our assemblies are molded to 600vac SOOW cable. Our product line includes spiders and splitters, extension cables, power stringers, and replacement parts. We can also produce custom parts to suit your specific needs!              
The generator cables and accessories are suitable for several industries such as construction sites, highway roads, and personal use. We offer free no obligation quotes and no minimum quantity order is required.
To learn more about our specialty made items, visit our product page at https://jbn-duraline.com/generator-power/
or download the product catalog at https://www.jbn-duraline.com/cf/LIBRARY/Brochures/Generator-Brochure.pdf
More from Sensors, Monitors & Transducers