DuPont™ FlexWrap™ EZ Adhesive Tape Selected as Parade of Products Award Winner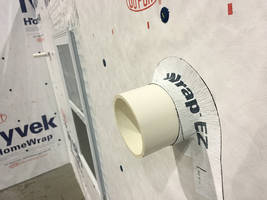 Uniquely designed self-adhered flashing tape wins PCBC award for innovative air-sealing solution of penetrations on exterior walls.
WILMINGTON, DEL. (PRWEB) JUNE 25, 2018 - DuPont Performance Building Solutions today announced that its DuPont™ FlexWrap™ EZ solution was named a winner of The Best of PCBC: 2018 Parade Of Products, an awards program designed to honor outstanding achievements in innovation and new product development at the Pacific Coast Builders Conference (PCBC), taking place in San Francisco June 27-28, 2018.
Nine award winners were chosen for the 2018 program by a panel of industry judges including expert engineers, designers, product curators and architects, and were rated according to solution base, innovation, practical application and design.
Introduced to the U.S. market in March 2018, DuPont™ FlexWrap™ EZ is a part of a complete DuPont™ Tyvek® Building Envelope Solutions portfolio to protect the entire building against air and water intrusion. DuPont™ FlexWrap™ EZ, a flexible and versatile self-adhered flashing tape, is uniquely designed in a 2 ¾ -inch wide by 15-feet length roll to seal around small exterior penetrations of all different shapes and sizes. It is a fast and easy solution to reduce the opportunity for air leakage throughout the building envelope and to help improve the durability and energy efficiency of a wall system.
Being selected as a winner of The Best of PCBC: 2018 Parade of Products is a testament to the ease of use, flexibility and versatility of the DuPont™ FlexWrap™ EZ product solution," said Alan Hubbell, residential market manager, Performance Building Solutions, DuPont Safety & Construction. "We're honored to receive this industry recognition and are excited to continue delivering innovative products to our customers."
DuPont™ FlexWrap™ EZ will be on display at DuPont Safety & Construction booth No. 1972. The booth will feature DuPont products such as Tyvek® Protec™ roofing underlayments; Tyvek® DrainWrap™; and DuPont™ Flashing Systems; among others. Dow products also will be featured at the booth, including GREAT STUFF PRO™ Gasket, GREAT STUFF PRO™ Window & Door; GREAT STUFF™ Gaps & Cracks; and THERMAX™ Brand Insulation; among others.
For Greater Good™ is the promise of the DuPont™ Tyvek® brand. Tyvek® can provide the trusted protective barrier people need to worry less so they can focus on accomplishing bigger things – making the greater good possible.
About DuPont Safety & Construction
DuPont Safety & Construction, a DowDuPont Specialty Products Division business, is a global leader in products and solutions that protect what matters – people, structures and the environment – and enables its customers to win through unique capabilities, global scale and iconic brands including Corian®, Kevlar®, Nomex®, Tyvek®, Styrofoam™ and Filmtec®.
About DowDuPont Specialty Products Division
DowDuPont Specialty Products, a division of DowDuPont (NYSE: DWDP), is a global innovation leader with technology-based materials, ingredients and solutions that help transform industries and everyday life. Our employees apply diverse science and expertise to help customers advance their best ideas and deliver essential innovations in key markets including electronics, transportation, building and construction, health and wellness, food and worker safety. DowDuPont intends to separate the Specialty Products Division into an independent, publicly traded company. More information can be found http://www.dow-dupont.com.
Contact Information
Matthew Engler
302-999-3659
Related