DSTI Will Showcase Fluid Rotary Technology at PACK EXPO 2011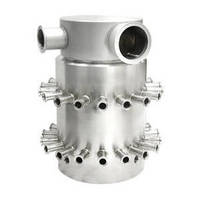 MINNEAPOLIS, Minn. - DSTI will showcase its fluid rotary unions and swivel joints for packaging and processing applications at PACK EXPO 2011 in Las Vegas, Nevada.

PACK EXPO, produced by PMMI, is North America's largest packaging and processing marketplace with more than 1,300 exhibitors signed on for 2011 to showcase their products and processes. Learn more at www.packexpo.com

With CIP compatibility and FDA compliant designs, customers worldwide rely on DSTI rotary unions for clean, efficient and reliable fluid transfer.

DSTI's specialized engineering services offer a comprehensive solution to fit the unique requirements of each application.

Applications include integrated designs for rotary filling machines, bottle washing equipment, robotic arm actuation, material handling systems, development testing applications, and washdown environments.

"We are very excited as this will be our first appearance at PACK EXPO and additionally, the official debut of a brand new food-grade rotary union product line," said John Knoll, VP of Sales. "We hope to educate PACK EXPO visitors on our technology and specialized solutions for rotating applications."

From Sept 26 - 28, DSTI welcomes exhibitors and attendees to visit them at Booth 6806 for a chance to learn more about DSTI's fluid transfer solutions for Packaging & Processing applications.

About PMMI --

PMMI is a trade association of 560-plus member companies that manufacture packaging, processing and related converting machinery in the United States or Canada; machinery components and packaging containers and material. Learn more at www.pmmi.org

About DSTI --

Dynamic Sealing Technologies, Inc. (DSTI) specializes in the design, manufacture and integration of rotary unions and rotating joints worldwide. DSTI's rotary unions are used to distribute a variety of fluids from a stationary inlet to rotating equipment. The company offers a full line of standard products for a wide variety of applications, as well as complete, specialized rotary union design and manufacturing services.

For more information, please call 763.786.3758 or email info@dsti.com, or visit www.dsti.com.

More from Mechanical Power Transmission