DropSens Nanotube Modified Screen-printed Electrodes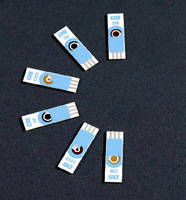 Riverview, FL, September 2008...

Metrohm USA proudly offers DropSens Electrodes-screen-printed carbon electrodes modified with carboxyl functionalized multi-walled carbon nanotubes. Designed as an affordable tool in the development of electrochemical biosensors and featuring an enhanced active area, these new electrodes offer better electron transer than most conventional screen-printed models, while retaining the electrocatalytic properties of the nanotubes.

A large 4 mm carbon nanotube surface area coupled with an integrated carbon counter and silver reference electrode system, accommodates samples up to 50 µl in size, providing a very stable platform for FIA research. This high-quality electrode system is now within the reach of every research lab.

As is customary with all instruments available through us, DropSens is backed by expert application and service support. For more information on products and services available through Metrohm USA, visit us online at www.metrohmusa.com.

Metrohm and design® is a registered trademark of Metrohm Ltd.

More from Packaging Products & Equipment