DMP Introduces a List of New Products at ASIS in Anaheim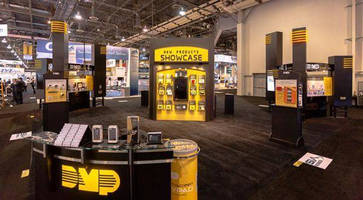 Springfield, MO - Visitors to the DMP booth (#2827) at ASIS will have the opportunity to see the impressive array of innovative security technology on hand for review and demonstration. The products on display incorporate advanced features and functions suited for commercial, banking, retail and government applications.



"ASIS never disappoints attendees," said Vice President of Product Design, Jeff Britton. "Everywhere you turn on the display floor you will find the latest in intrusion and access control products. That's especially true in the DMP booth. Visitors can get a first-hand look at the latest in technology, and leave with ideas for new ways to upgrade their installations with stronger security, new features, and greater convenience."



Visitors will be able to learn about the following:



Banking



On display is the DMP XR550 Series Access/Burglary/Fire 574-zone Panel which provides all the protection a financial institution could ask for. It includes functions customized to bank, safe, and vault operations including a two-man rule, panic-button test, and ambush features. The XR550 incorporates UL-Grade AA network communication with cellular, network and dial-up options. DMP Adaptive Technology instantly and seamlessly switches between any of the eight available communication links, ensuring constant alarm monitoring. The XR550 has the capacity and capability to encompass all of your facilities, including remote kiosks and ATMs, and is able to constantly monitor status and instantly update software or features remotely. DMP and the XR550 system address every financial institution's need for protection from fire, holdup, ambush, and assault.



Government



DMP provides some of the strongest protection available with the XR550E Access/Burglary/Fire 574-zone Panel. The panel offers 128- and 256-bit AES encryption, NIST certification, and meets ICPG705. The XR550DE includes DMP Adaptive Technology that seamlessly switches between any of the eight available communication links, ensuring constant alarm monitoring. DMP technology continues to be designed and built in America, with a national network for installation and service, and company representatives devoted entirely to serving federal, state, and local government customers. These agencies can take advantage the DMP GSA contract to acquire the technology they need to secure their facilities from intrusion, theft, and fire. One panel will do it all.



Retail



The XT Series and XR150 Series Access, Burglary, and Fire Panels offer customizable, expandable technology providing total premises protection. Wireless technology means fast, clean installations, with the ability to place sensors in the optimum location and easily relocate them to adapt to changing store layouts. DMP panels offer features specifically designed to help retailers better manage their business. The Late to Open/Early to Close feature sends an alert if the facility isn't opened or closed on schedule. The Traffic Count feature provides valuable information about the number of people entering the premises and can track their movements throughout the sales areas. This data and more can be sent directly to the manager's mobile device, putting increased protection and enhanced management capabilities in the palm of their hand.



Communications



CellComSL™ Universal Alarm Communicators: The CellComSL Series provides alarm dealers with a solution for updating existing panels, whether to upgrade the Cellular network capability or add new lifestyle features. Ademco® Keypad Bus support is available for easy connection to Honeywell™ panels. The keypad bus connection captures alarm data and forwards it via a fully supervised alarm communication path over the CDMA network to the selected Central Station using the account number entered in the communicator by the installer.



iComSLF and CellComSLCF Universal Fire Alarm Communicators: The iComSLF and CellComSLCF commercial fire cell communicators provide fully supervised alarm communication over network and CDMA network respectively. They meet the NFPA 72 standard for single communications technology and can be added to most existing panels. If the existing panel supports Contact ID, then it's a candidate for upgrade using the iComSL or CellComSL fire modules.



iComSL™ Series Network Communicator: The iComSL and iComSLZ Universal Alarm Communicators provide the same features and benefits as the CellComSL communicator, but over a Network or Internet connection.



Panel Maintenance



Remote Panel Flash Update: Dealers can now update the entire DMP line of panels over Network or Cellular connections using Remote Link™ or from the Dealer Admin tools of Virtual Link™.



System Analytics™: This tool, provided through the Dealer Admin site, allows SecureCom Wireless Dealers the ability to remotely view system health, reducing time-wasting travel by techs to diagnose panel problems. A variety of real-time panel metrics are available to troubleshoot problems and make faster repairs.



Model 400 USB Flash Module: The module is an easy-to-use, thumb-sized device for updating panels in the field. Technicians can do a field upgrade in minutes with no computer or programming harness. The module's 4-pin header connects directly to the panel's programming port. New firmware releases can be downloaded and stored on a USB flash drive, then simply connected to the Model 400 for panel updates.



Mobile Features



MyVirtualKeypad.com™: With the latest V1.8 release, DMP Dealers can give end-users multi-system administration that provides an authorized person to administer App Users, System Users, System Schedules and more for multiple panels or sites in a single screen. The creation of groups allows for faster administration of these items, by allowing systems or sites to be grouped together by state or county or physical location or any grouping method you determine. Systems can be included in more than one group. This new set of features allows administrators to add or delete users quickly in multiple panels without having to go into each panel individually. This is a powerful on-line tool that every company with multiple locations and systems will appreciate and enjoy the power of immediately.



Geofencing for the Virtual Keypad App™: Geofencing triggers Z-Wave® automation actions based on the system user's GPS location. When the panel recognizes a fence has been exited or entered, it triggers Favorites™ to activate lights, locks, thermostats, and/or garage doors. Users can also receive a Smart Arming Reminder if they are the last to leave the premises. These features offer enhanced convenience and security as well as reduced energy costs to both residential and commercial accounts.



Video Verification to Central Stations: This feature enables Central Stations to visually assess an alarm situation via the users' connected video cameras. For the first time, real-time-alarm data backed by video is in the hands of the people who can use it the most, enabling faster, more-accurate responses. This patent-pending technology is compatible with any automation software, and makes live and pre-alarm video clips available when the intrusion alarm screen displays.



Traffic Count for the Virtual Keypad: Traffic Count for the Virtual Keypad App is just one of the features that take DMP panels beyond providing reliable security, delivering additional, value-added capabilities to meet specific, end-user needs in a variety of markets. While especially useful in retail, Traffic Count can be used in any commercial application where it's useful to document the volume of foot traffic entering their premises or passing through any area of a facility.



DMP is a privately held, independent manufacturer of innovative intrusion, fire, access control, network, and cellular communication products that are designed, engineered, and manufactured in Springfield, MO. DMP is the recognized leader in alarm communications over data networks, with products that are available through professional electronic security companies. For more information contact Melissa Pitfield at 417-831-9362, or visit www.dmp.com.