Discover the DAC that Delivers Integration AND Performance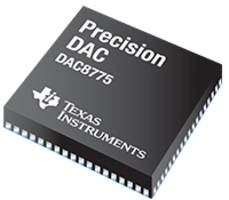 Reduce design costs and shrink board space
The next level of precision digital-to-analog converter (DAC) integration is here with exceptional integration, performance and reliability.
The DAC8775 has the most integrated signal chain and power supply scheme, the most extensive on-chip alarm features, and the widest operating temperature range in the industry.
With the DAC8775, you can:
Simplify power supply design - Integrated buck/boost converter operates from a single wide power supply to generate all required power supplies, saving designers time, cost and board space.
Rely on the most extensive alarm features - On-chip smart alarm features allow designers to choose from three preset device actions, enabling a more robust and reliable system design.
Endure extended industrial temperatures - High DC performance over an extended temperature range allows engineers to design for applications that endure extreme operating conditions.
DAC8775: http://www.softei.com/mailer/link.php?M=1094112&N=1882&L=3185&F=H
Download datasheet: http://www.softei.com/mailer/link.php?M=1094112&N=1882&L=3187&F=H
Order now: http://www.softei.com/mailer/link.php?M=1094112&N=1882&L=3186&F=H
More from Thermal & Heating Equipment