Miscellaneous Storage Equipment
DigitalGlue Announces Financing Option for //ROGUE Portable Storage System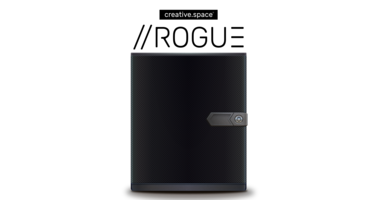 Own a 48TB //ROGUE for Only $199/Month with 0% Financing for 24 Months*
Murrieta, CA - April 14, 2020 – Experience the full power of the creative.space platform with a system that you can own! DigitalGlue is excited to offer an affordable financing option for the //ROGUE portable NAS storage system. The new financing opportunity will put the 48TB //ROGUE in customers' facilities for only $199/month and the 64TB //ROGUE for $265/month with 0% financing for 24 months*.
The //ROGUE is one of five systems in the creative.space platform and is the only system available for purchase. For a limited time, the //ROGUE includes a free year of proactive support, making it the perfect way for customers to experience the benefits of DigitalGlue's unique service with a system they can own. For customers wanting to buy a //ROGUE, DigitalGlue is now offering an introductory promotion that brings the price down to $4,975 for 48TB of RAW storage (normally $5,995) and $6,375 for 64TB of RAW storage (normally $6,995). Additional add-ons available are NVME M.2 drives for ultra-fast caching (2TB for $595 and 4TB for $1,695), SATA M.2 for DaVinci Resolve database (500GB for $249 and 1TB for $399) or combine both drives for package pricing. These add-ons can be added to the 0% financing.
The //ROGUE is an enterprise shared storage server scaled down to a desktop form factor with four drives. With a server-grade motherboard, CPU, and ECC RAM, the //ROGUE can deliver speeds up to 1000 MB/s per user via each of the two built-in 10 GbE ports. Two additional 1 GbE ports allow you to connect more users or a router for internet access. Expand your network with a switch to support more users and build a local area network. Packed with up to 64 GB of RAM, the adaptive replacement cache makes the hard disk drives perform like solid state. Built-in intelligence learns from how you work to improve performance over time.
The //ROGUE ships with the same software as the larger creative.space systems, which is designed for creatives to make storage simple. The web app takes the complex IT-centric tasks normally associated with enterprise storage and streamlines them with an intuitive graphical user experience that eliminates the need to use a command line. With powerful built-in monitoring and alerts and the free year of support, DigitalGlue's DevOps team proactively manages your system for you to address issues without you needing to even pick up the phone.
To learn more about the //ROGUE and financing, click here.
*0% financing for 24 months. Based on approved credit. Shipping and taxes not included.
About creative.space and DigitalGlue
creative.space is a division of DigitalGlue providing On-Premise Managed Storage (OPMS) as a service for broadcast networks, television stations, production and post-production companies, churches, corporations, athletic teams, and ad agencies. More information is available at creative.space.
DigitalGlue provides equipment, integration, and software development for the production and distribution of digital video. The company analyzes clients' workflows to build optimized solutions for collaborative editing, automation, media asset management, storage, and archiving. From contribution to distribution, the DigitalGlue team works with customers to efficiently deliver their programming over fiber, cable, satellite, IPTV, and OTT.
DigitalGlue designs, integrates, and supports systems based on today's needs, yet draw from years of real-world experience to engineer a technology path for tomorrow. More information is available at www.digitalglue.com.
Product and company names used herein are trademarks or registered trademarks of their respective owners.
Contact:
Christina Anderson
DigitalGlue
+1-949-388-9078 x135
Email: [email protected]