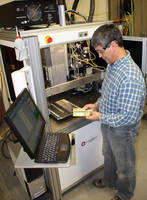 There are many different types of UV inks available and successfully matching the right combination to the substrate can be daunting. Pad Print Machinery of Vermont's digital ink jet program has been expanded to include a multi-head UV ink test printer. The printer's ink management array includes quick change "blades" (ink storage containers) for sampling multiple ink types. Ben Lessard lead engineer on the project states, "This new system allows us to evaluate different UV ink sets quickly and efficiently by trying different approaches for our customers, based on their needs and substrates. From there our engineering group can tweak the ink management and pre- and post-treatment systems for maximum results. "

Pad Print Machinery of Vermont is in a unique position since we offer both traditional pad printing solutions as well as custom designed digital ink jet printers. For the past six years, PPMOVT has focus attention, time and resources in developing a versatile digital ink jet product.

These printers can be fully integrated into existing systems including pre- and post treatment options, conveyors, vision sensing and other material handling on- and off-loading devices.

Pad Print Machinery of Vermont has a dedicated digital ink jet team comprised of software and mechanical engineers, technicians and tech support staff ready to design a digital printer to meet your specific manufacturing requirements.

For more information about Pad Print Machinery of Vermont's custom solutions, plus our full line of standard pad print machines, digital ink jet printers, inks, pads, clichés and other auxiliary equipment and automation options, visit www.padprintmachinery.com, call 800-272-7764 or email sales@ppmovt.com.


More from Non-Industrial Products