Developments in Fluidization Materials Accross the Powder Handling Industry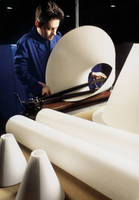 Roy Rigby, Market Manager of Porvair Filtration Group - a manufacturer of both filtration solutions and porous materials - discusses the company's developments in fluidisation materials across the powder handling industry.



The fluidisation of powders, using compressed air through a porous media to make them flow like liquids, is a process used in many industries. By introducing a compressed gas via porous media into a bulk powder, it is essentially enabled to behave like a liquid for ease of movement.



Porvair operates across a diverse range of filtration and separation markets, driving research and development through its product development team which includes specialist scientists and engineers. The success of our product development strategy is driven through continued integration between each of the sector specialists, who work together to develop innovative and complex design solutions for the market place.



Dedicated test, development and laboratory services underpin our design and development programmes in powder fluidisation, ranging from filtration media, material characterisation, and product verification testing to customer systems simulation trials and in-service performance evaluation. Key to product development is investment in test house and laboratory facilities, where Porvair uses the latest CAD technology, with 3D solid modelling, integrated with a finite element analysis system to give full structural assurance capability.



Drawing upon proprietary Vyon® sintered porous plastics, Sinterflo® sintered porous metals particularly Sinterflo® M sintered metal meshes, which can be produced in a wide variety of structures, including flat beds, cones, and domes, we are able to fabricate optimized powder fluidisation solutions for a wide range of applications.



Powder fluidisation applications are widespread in the pharmaceutical, food, beverage and construction industries, and are used to move powders such as drugs, flour, plastics and cement, as well as to efficiently empty silos, road and rail tankers.



In general, the smaller the powder particle size, the more cohesive it becomes and the more difficult it is to move. However Porvair are confident that their extensive range of fluidisation media can be utilised to find a practical solution to most fluidisation challenges. The market demands that powder fluidisation systems have compact, economic designs and are easy to clean with minimal maintenance. Managing powders covers both filtration systems and powder movement, however porous materials are used in many applications other than filtration. Notably they are used in sound attenuation/silencers, vacuum table covers, and porous supports in applications such as process chromatography. Sintered porous materials also exhibit strength and very uniform porosity critical in many of these applications.



However, in powder handling where there is a requirement to move powders efficiently, these materials have properties that offer particular benefits. In such applications, the powder is moved by making it "flow like a liquid", using air to fluidise the powder. The materials are of high uniform porosity, meaning that energy requirements are minimised to make the powder flow. Indeed, the unified porosity means that in fluidisation there are no dead spots. Dead spots and dead zones hinder performance, causing poor flow and stagnation. For certain powders such as pharmaceuticals, stagnation can cause powder degradation.



Two types of materials that are ideal for these applications are Sinterflo® M porous sintered mesh and Vyon® sintered porous plastic. Both materials are extremely strong and free standing and can be fabricated into shapes as complex as fluidising cones for use in silos, for example. The material technologies that Porvair can bring to powder handling represents one of the largest selections currently available from any single manufacturer. These materials can be supplied in a variety of different formats, including flat sheet or fully fabricated aeration cones.



Porvair Filtration Group also manufactures filter elements in either a pleated or plain cylindrical form. These are offered in different filter media, including Vyon® porous polymers, Sinterflo® M sintered metal mesh, and Sinterflo® P sintered metal powder. Sinterflo® sintered porous metal materials are ideal for applications that involve aggressive chemical environments, high temperatures and high pressures. Available for OEM producers or as fabricated products for bespoke needs, Porvair's advanced welding and assembly capability, supported by a high quality ethos, ensures robust processes. Both mechanically and chemically strong, these materials allow for effective cleaning for reuse, thereby delivering cost-effective solutions for difficult applications.



Vyon® is a porous sintered material, manufactured from either high density polyethylene (HDPE) or polypropylene (PP). This material can be supplied as a ready fabricated fluidising cone liner or in flat sheet form, for use as a tank liner or in an end user secondary fabrication. Vyon® porous polymers are the most economical choice where temperatures are in the range of -70°C to 80°C (-94°F to 176°F). Vyon® is also fully cleanable for multiple re-uses. However, its affordability compared to stainless steel may permit more frequent replacement where a disposal fabrication is preferred to cleaning.



Sinterflo® M multi-layered, diffusion-bonded stainless steel mesh is available in 316L and other alloys. This precision filter mesh, also known as a porous plate, is available in both Lo Pass and Hi Pass media. Porvair also fabricates Sinterflo® sintered mesh into complete hopper bottoms, tubes and custom shapes. The material can be supplied as a flat-panel porous plate and unlimited size in butt-welded sheets. This material is easily custom engineered for non-standard applications. Sinterflo® P sintered metal powder aeration pads are manufactured from either sintered powdered 316L stainless steel or sintered powdered bronze. The sintered porous Sinterflo® mesh is made by weaving sintered metal meshes together to achieve a strong and rigid porous structure. Stainless steel is often the preferred option but other materials can be used such as Hastelloy®, Inconel® and Monel®. The construction can be customised depending on the powder. Furthermore, combinations of meshes can be sintered together for the precise pore size required. The sintered porous Sinterflo® mesh is particularly suitable for food and pharmaceutical applications as it can be steam sterilised. It has a uniform pore structure giving an even, total area fluidisation. It is self-supporting due to its semi-rigid nature, thereby reducing the need for the external support structures that are required with canvas and felt media.



The sintered porous plastic Vyon® is made by sintering particles of the plastic materials together to form a porous structure. Typical materials used are polyethylene and polypropylene. Again, the material is rigid and strong and can be made to a specific pore size distribution.



Selection depends on application. For example, in the pharmaceutical and food industries, sintered porous stainless steel mesh is a preferred option because of the ability to steam sterilise. Porvair's broad range of media has been used to fluidise a wide variety of powders. Across the industrial and construction industries, its media has been used to fluidise cement, gypsum, silica, resin bonded sand, sulphur, soda ash, pulverised fly ash, coal dust and glass beads. Furthermore, in chemicals and plastics, it can be applied to pigments, carbon black, titanium dioxide, anti-pest powders, calcium carbonate, detergents, PVC, EVA, polyethylene, epoxy and polyester paint powders.



These materials also bring other benefits. Traditionally, canvas is used as a fluidising media, and is supported between two stainless steel frames, but because Porvair's materials are strong single units and free standing, they don't require support. In addition to Porvair's extensive powder fluidisation capability, it also has vast experience in the recovery of powder materials using filtration.



Pulsed Jet cleaning is a method used in gas filtration for the in-situ removal of accumulated particulate from the surface of a filter element. Historically, Pulsed Jet cleaning has been used in conjunction with bag house filter systems, but fabric filters are unsuited to more stringent applications because of their low filtration efficiencies and relatively poor physical and chemical properties. This has been overcome by adapting the principle for use with metal fibre filters, to meet the exacting requirements of powder handling applications within many process industries.



Pharmaceutical companies are now among many investing in custom-designed Pulsed Jet blowback filters for recovering and containing valuable powders for a wide range of applications, such as drying, milling, blending, conveying and tableting in powder production and processing. In such processes, the gas being withdrawn or expelled from the system is passed through one or more sintered stainless steel filter elements. Any of the powder that is carried to the filter surface is periodically dislodged by Pulsed Jet cleaning, allowing it to fall back into the system. Each Pulsed Jet cleaning cycle has a duration of less than half a second and creates only a minor instantaneous overpressure which causes no disruption to the process.



The technology of Pulsed Jet cleaning with metal fibre filters has found diverse applications across all aspects of pharmaceutical production. With continuing emphasis being placed on improving quality procedures and ever tightening legislation on airborne emissions, it is anticipated that further applications will emerge as engineers realise the full extent of the potential of this technology to help run their process plants safely, reliably and economically.