Automated Guided Vehicle Systems
Dematic Introduces New Suite of Intra-Logistics Solutions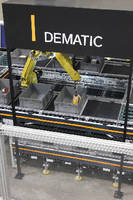 Powered by Performance Optimizing Software



GRAND RAPIDS, MICHIGAN – Dematic, a supplier of intra-logistics systems for the factory, warehouse and distribution center, today introduces a new suite of solutions for receiving, storage, order fulfillment, buffer staging, packing and palletizing. The continuous focus on innovation has created solutions that optimize manual processes in low volume operations as well as automated configurations for medium to high volume environments. Furthermore, the new suite of solutions is designed using a standardized and modular architecture to support rapid deployment, operational flexibility and expandability for the constantly changing world of omnichannel commerce.



Each Dematic solution is managed and controlled by Dematic iQ performance optimizing software. According to Ulf Henriksson, President and CEO of Dematic Group, "The software optimizes operational processes from planning to order fulfillment and shipping within a single flexible, scalable and modular platform. It offers visibility and insight into system performance; intuitive dashboards operate on desktop computers, laptops and mobile devices." A built-in data layer sets the foundation for analytics and smarter decision making.



John Baysore, CEO Dematic North America stated, "We are excited to introduce innovative and enhanced solutions that offer operational improvement methods that can be applied in many configurations and capacities: small point solutions to large integrated systems and low to high throughput rates. These solutions are modular, flexible and scalable for smaller regional companies as well as large global corporations."



For receiving and storage applications, the new solutions include a Very Narrow Aisle (VNA) Automated Guided Vehicle System (AGVS) that provides automated pallet storage. A new automated Satellite Shuttle offers deep lane pallet storage in a rack structure. The Multishuttle Flex is an automated buffer staging and sequencing system that accommodates cartons and totes of various sizes in a double deep multi-level rack structure.



For order fulfillment, the new solutions include RapidPut, a light or voice directed put/pack wall for order consolidation and order packing. MobilePick is an automated guided vehicle solution that is designed to transport totes/cartons to and from picking zones. To support fully automated piece picking applications, RapidPick XT, a robotic picking system, automatically transfers items from donor totes to order totes. RapidPick XT can also be utilized for kitting applications.



For mixed case pallet building applications, a new fully automated solution will be released later in 2015. AMCAP, which stands for Automated Mixed Case Palletizing, is a high performance case palletizing system designed to accommodate the growing need to assemble pallets that are ready for easy shelf restocking at the retail store. The solution is ideal for grocery retailers, beverage distributors and producers of consumable products. "The AMCAP solution allows an effective pallet unloading process at the pallet destination. This is accomplished using performance optimizing software that strategically sequences and positions each case on the pallet for efficient store replenishment," said Ulf Henriksson.



For more information, visit www.dematic.com or contact Cheryl Falk: 262-860-6715 Cheryl.Falk@dematic.com.



About Dematic

Dematic is a global engineering company that provides a comprehensive range of intelligent warehouse logistics and materials handling solutions. With a global knowledge network of more than 4,000 skilled logistics professionals, Dematic is able to provide customers with a unique perspective in world-class materials handling solution design. Our commitment to solution development, combined with engineering centers and manufacturing plants in North America, Europe and Asia Pacific, ensures Dematic has the range and capability to provide reliable, flexible, cost-effective solutions globally. Our successful track record has led to the development and implementation of more than 4,000 integrated systems for a customer base that includes small, medium and large companies doing business in a variety of market sectors. Dematic generates a global business volume of approximately $1.5 billion.

More from Communication Systems & Equipment