Dematic Announces Sale of New Robotics Solution for Food Distribution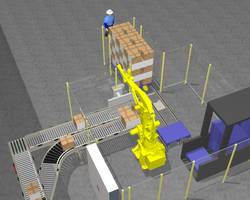 Automation Innovation Brings Competitive Advantage
GRAND RAPIDS, MICHIGAN – July 13, 2018 – Dematic, a leading global supplier of integrated automated technology, software and services to optimize the supply chain, today announced a large supplier in the food distribution industry has selected Dematic for a new robotics solution. Unlike other industries such as manufacturing, food distribution has not been a traditional market for robotic automation. But with special challenges — including finding labor resources to work in temperature-controlled environments — more companies are seeking innovations that can both solve immediate issues and provide a competitive advantage.
The robotics solution that Dematic will design and implement will meet both marks. Frozen product entering the distribution center will be depalletized and loaded onto transfer conveyor by the first robot. As the cases arrive at the palletizing cell, a second robot will arrange the cases on pallets specifically designed for store delivery. Software and controls ensure the pallets are built to meet the daily needs of the individual stores.
"We are just beginning to realize the potential of robotic solutions for solving critical picking and sorting challenges in distribution centers," says Crystal Parrott, Vice President of the Dematic Robotics Center of Excellence. "Dematic is fully committed to providing the automation innovations that will change the way companies tackle their fulfillment challenges."
For more information about Dematic robotic solutions, visit dematic.com/robotics or contact Cheryl Falk at Cheryl.Falk@dematic.com or 262-860-6715.
About Dematic
Dematic is a leading supplier of integrated automated technology, software and services to optimize the supply chain. Dematic employs over 6,000 skilled logistics professionals to serve its customers globally, with engineering centers and manufacturing facilities located around the world. Dematic is one brand under the KION Group of companies and has implemented more than 6,000 integrated systems for a customer base that includes small, medium and large companies doing business in a variety of market sectors.
Headquartered in Grand Rapids, Michigan, Dematic is a member of KION Group, a global leader in industrial trucks, related services and supply chain solutions. Across more than 100 countries worldwide, the KION Group designs, builds and supports logistics solutions that optimize material and information flow within factories, warehouses and distribution centers. The company is the largest manufacturer of industrial trucks in Europe, the second-largest producer of forklifts globally and a leading provider of warehouse automation.
Press Contact:
Cheryl Falk
Senior Vice President, Global Marketing Communications
Cheryl.Falk@dematic.com
(262) 860-6715
More from Software