Delta Brands Designs and Delivers a ¾" X 96" Complete Temper Pass Cut-to-Length Line with Rotary Shear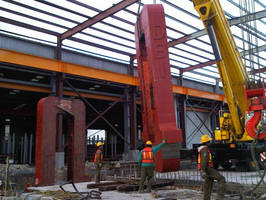 Delta Brands, Inc., (DBI) has delivered a 3/4" X 96" X 100,000 psi temper pass cut-to-length line with rotary shear to Fortacero S.A. de C.V. Headquartered in Monterrey, Mexico, Fortacero offers more than 800 products including plate, hot rolled sheet, and cold rolled sheet as well as structural and merchant bars.

DBI designed and manufactured the temper pass cut-to-length line before delivering the components to Fortacero in record time - just under nine months. DBI is the only manufacturer in the industry to successfully commission a complete temper pass cut-to-length line with rotary shear.

The temper mill cut-to-length method provides a uniform, perfect flatness due to its continuous process which also eliminates material springback. DBI designed its unique rotary shear to eliminate the start/stop operation found in other temper mill lines in the industry and significantly reduce the maintenance costs associated with other types of moving shears. The rotary shear's ability to cut material "on the fly" can double or even triple production.

The robust design of DBI's temper pass line provides a more reliable processing environment and ensures low maintenance. DBI expects to complete installation of the temper pass line with rotary shear at the Fortacero headquarters facility this year.

For nearly 50 years, Delta Brands Incorporated (DBI) has been designing and manufacturing value-added metal processing solutions tailored to customers' individual requirements. DBI is also able to optimize designs and engineer lines to incorporate customer concepts. Today, DBI continues to combine innovation, application engineering, and integrated automation to give metal service centers and steel producing mills critical competitive advantages. One such advancement, DBI's unique rotary shear, eliminates the start/stop operation found in other cut-to-length lines. This "continuous" process significantly increases production, meets tight tolerances and reduces maintenance. DBI is the only manufacturer with the flexibility and expertise to design and successfully commission a temper pass cut-to-length line 1" X 100" X 120 psi equipped with a rotary shear. DBI's product line-up also features a variety of coil processing lines; slitting, leveling, cold rolling mills, pickling, galvanizing, and color coating as well as tinning and tension leveling lines. With more than 200,000 square feet of manufacturing space, DBI's state-of-the-art facility is equipped with large capacity machine tools and fabricating equipment required to build high quality industrial machinery. Comprehensive customer service includes project management, equipment installation, start-up supervision, after sales support and training for operator and maintenance personnel. DBI builds its equipment to meet the specific standards of its customers around the world.

More from Controls & Controllers