Delaware Metals Increases it's CNC Machining Capacity with an Additional HAAS Vertical Machining Center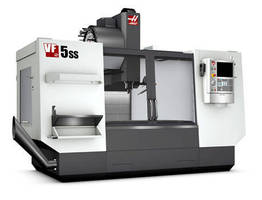 Delaware Metals, in Newport, DE, has added several new machine tools to keep up with additional demand in it's services, including CNC Machining, Metal Fabrication, Prototype Development and Assemblies.  We also offer Machining and Fabrication of plastic composite materials. 



Recently we added a Haas VF-5SS  Super-Speed Vertical Machining Center ; 50" x 26" x 25" (1270 x 660 x 635 mm), 40 taper, 30-hp (22.4 kW) vector drive, 12,000 rpm, inline direct-drive and high-speed 40+1 side-mount tool changer.



This  machine is equipped with a 12,000-rpm, 40-taper spindle that features a unique inline, direct-drive system that couples the drive directly to the spindle rather than using belts. This results in smoother transmission of power, less heat and less noise than other drive systems, providing better surface finishes, extreme thermal stability and very quiet operation.



We are continuing to update our shop to better service our customers in the Aerospace, Automotive, Medical Device, Pharmaceutical and other Industries.  We are continuing to partner with new customers with this added capacity in our shop. 



About Delaware Metals:



In continuous operation since 1953, we specialize in precision CNC machining as well as the prototyping, fabrication and assembly of metal and composite materials for aerospace, automotive, medical device, metrology, nuclear, and pharmaceutical applications.



The consistent and steady growth of Delaware Metals is due to a commitment to improvement, innovation, quality craftsmanship, and customer satisfaction. These are the basic tools in our quest to provide you, our customer, with the best quality products and service.



We are always willing to expand our services to meet the needs of our customers, and we are will add equipment to increase our capacities when customer requirements dictate doing so.



For more information, please call 302-994-7444 or visit our website www.delawaremetals.com. 



More from Mechanical Power Transmission