Dealers Can Now Offer Printer Cover Resurfacing Service Metrofuser, Introduces Specialty Aerosol for Printer Cover Refinishing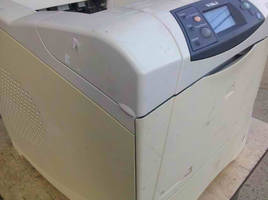 Roselle NJ - Laser printer parts manufacturer Metrofuser (www.metrofuser.com) is expanding its tool and equipment portfolio by introducing an aerosol spray paint for HP laser jet printers and MFPs. The availability of this product will increase profitability for dealers and allow them to offer a unique service.

Our Challenge

Over time the various panels on HP printers color aged differently while some remain light white others turn various shades of yellow leaving a perfectly running Laser Jet printer looking like it was stitched together from various parts. Now poor cosmetic printers can be brought back to life.

Our Proprietary RM1-X101 Formula

Metrofuser worked closely with a specialty coating fabricator to develop this custom blend in a easy to use aerosol so it can be distributed to dealers. The formula is color corrected so acceptable aged covers can match newly refinished ones. It is the same durable acrylic lacquer used in Metrofuser's coating program for printer re-manufacturing.

Opportunity for Dealers

Many dealers will roll it out as a initial printer refresh service while others can sell as an up charge during regular maintenance service call either way its a compelling and unique service for BtoB printer end-users." said Will DeMuth Chief Operating Officer. "More over it is a excellent tool for MPS programs by extending the cosmetic life of the legendary HP work horse printers." DeMuth continued to say "It makes a fine addition to our tool and equipment program"

Available in 12 3/4 oz aerosol can,361 net wt. exclusively at Metrofuser.

About Metrofuser

Metrofuser remanufactures and distributes laser printer parts, re-manufactured printers and offers service training for HP, Lexmark and Canon laser printers. The company offers a broad array of laser printer products from its Eastern and Western distribution hubs including fusers, maintenance kits, boards, and paper handling assemblies. Metrofuser has been named to Inc. Magazine's fastest growing companies for four consecutive years. For more information, visit www.metrofuser.com, or call 888-FUSERS-1 Ext 107.


More from Electrical Equipment & Systems