Dayton Electric Rotary Engraver from Grainger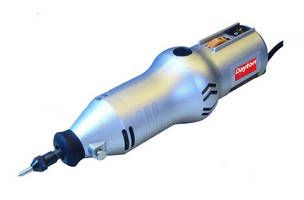 Permanently Engrave... Tools, machinery and equipment with the versatile Dayton Electric Rotary Engraver from Grainger. This rotary tool can etch fine lines to deep grooves in metal, plastic, glass, ceramic or wood. The 2LKU6 features a die cast aluminum body, 1/8" collet chuck with lock-out collet button for quick accessory changes plus an adjustable five-position speed control dial to control engraving depth and tool speed. It is sold with a replaceable carbide point and the collet chuck will accept all 1/8" shank accessories.

W. W. Grainger, Inc. (NYSE: GWW), with sales of $6.2 billion, is the leading broad line supplier of facilities maintenance products serving businesses and institutions in Canada, China, Mexico and the United States. Through a highly integrated network including more than 600 branches, 18 distribution centers and multiple Web sites, Grainger's employees help customers get the job done.

Related