Dana Incorporated Collaborates with Famic Technologies to Make Brevini® Fluid-Power Products Available in Automation Studio™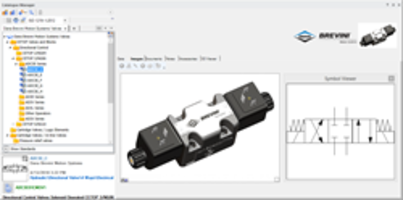 Dana Incorporated (NYSE: DAN), a world leader in highly engineered solutions for improving the efficiency, performance, and sustainability of powered vehicles and machinery, has teamed up with Famic Technologies Inc. (Montreal, Canada) to create its first catalogue integrated into the Automation Studio™ software.
MONTREAL (PRWEB) MAY 09, 2018
Famic Technologies has released the first Dana Catalogue in Automation Studio™, its design and simulation software solution. This version contains all screw-in, logic and CETOP valves developed under Dana's industry-leading Brevini® brand.
With this new catalogue, Automation Studio™ users will be able to design system circuits using Brevini-brand products. The catalogue provides both the symbol of a component and relevant technical/commercial data, as well as the modelling of its behaviour. With advanced simulation capabilities, various system functions can be validated including performance calculations, heat-load requirements and other engineering considerations such as pressure drop, horsepower and volumetric efficiency. The catalogue also includes a Product Configurator, allowing users to select any specific options available to a product. Once selected the part number, symbol and simulation model adapt accordingly.
"Powerful system design and simulation software solutions help accelerate the delivery of complex products to market by condensing the development, integration, and testing cycles," said Giulio Ornella, director of innovation and advanced engineering for Dana. "Famic Technologies' Automation Studio™ is a valuable tool used by many of Dana's OEM customers to fully and precisely simulate and understand the performance of Brevini products within a complete system, which helps them accelerate their development schedules and achieve a competitive advantage in their markets."
Charbel Nasr, President of Famic Technologies adds, "For over 20 years now, we have been bringing manufacturers closer to OEMs and system integrators, by including manufacturers' virtual catalogues in Automation Studio™. We have been responding to users' requests from various industries including the industrial, agriculture, marine, heavy machinery sectors, by developing on-demand components. This interest has been shared with Dana, who already has a worldwide presence in these industries, and it was mutually agreed to create their Brevini products catalogue with its content being validated by Dana. Making available the entire Brevini hydraulics product lines will offer a better support to the Automation Studio™ user community."
Contact Information
Véronique Bader
Famic Technologies Inc.
http://www.famictech.com
+1 (514) 748-8050
Jeff Cole
Dana Incorporated
http://www.dana.com
+1-419-887-3535
More from Sensors, Monitors & Transducers