Dallas Industries to Feature Press Feed Equipment at Fabtech 2017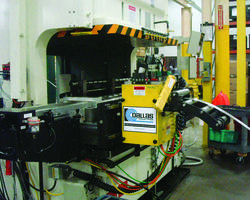 Troy, MI - Dallas Industries personnel will discuss its lineup of press feed equipment, including air and servo feeds, pull-thru and powered straighteners, single and double coil reels and cradles at FABTECH 2017, Booth A5120, November 6-9, 2017, McCormick Place, Chicago.
The exhibit will feature the company's well-recognized Zig-Zag servo feed. The Zig-Zag feed provides a great way to minimize material scrap when running circle blanks. The Dallas Zig-Zag Feed has a one, two or three-out capacity with the servo feed index cycle made simultaneously with the cross-slide lateral travel, producing a diagonal stock movement in the automatic mode. This combination of the cross-slide lateral travel and diagonal stock movement of the zig-zag feed enables manufacturers to minimize the scrap generated when stamping out circles.
The manual mode has forward or reverse indexing and cross-travel indexing. The absolute feedback of the cross-slide eliminates the need for homing, making the feed ready at power-up. The servo is mounted on a linear bushing support base that travels perpendicular to the stock flow on case-hardened guide paths. The Zig Zag feed provides optimized strip advance and lateral length based on operator entry of material width, blank diameter and web thickness.
Dallas Industries' full line of products includes press feed lines in both conventional and SpaceSaver styles. Also offered is a wide range of sizes and capacities of servo feeds, heavy-duty straighteners and coil handling equipment.
Dallas Industries
103 Park Street
Troy, MI 48083-2770
248-583-9500
Fax: 248-583-9402
Online: www.dallasindustries.com
More from Material Handling & Storage