Cycle Enhancement Package for Production Tables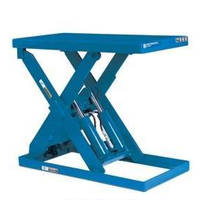 This package increases the useful life of the lift.

Advance Lifts, Inc. of St Charles, Illinois has released a new Cycle Enhancement package available on their Production Series lift tables. This cycle enhancement package is designed to extend the useful life of the lift in higher cycle applications with out incurring the higher cost adder of the high cycle (1,000,000 cycle warranty) unit. The cycle enhancement package consists of upgraded high wear cylinder seals and
bearings. The P- series lift tables have a 250,000 cycle structural warranty. Naturally, the useful life of a lift is dependent on its use and environment, but life of up to 4 times the warranty may be expected.

For over 35 years, Advance Lifts, Inc. has been manufacturing loading dock equipment, work positioners, lift tables, recycling equipment and packaging equipment.

To find out more information visit us on the Internet at www.advancelifts.com.

For technical information contact Michael Renken michaelr@advancelifts.com
or call 800-843-3625.

More from Controls & Controllers