CX-Aire In-Duct Air Purifier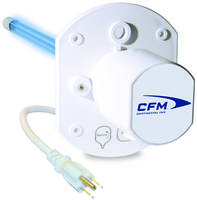 With the power of UVGI (ultraviolet germicidal irradiation) light, CX-Aire in-duct air purifier effectively neutralizes harmful airborne viruses, bacteria, mold and fungi. UVC light purifies the indoor air as it circulates through the treatment zone within an HVAC duct system. The compact design of the CX-Aire easily installs in an existing HVAC duct system and conveniently utilizes a pre-wired 120V power cord.
Features & Benefits
High-intensity, energy efficient UVC germicidal lamp
Effectively neutralizes viruses, bacteria, mold & fungi
UVC light irradiates an AC coil of toxic organics and biofilm
Compact design easily installs in an HVAC duct system
Install in supply duct, in return plenum or above AC coil
Continuous operation
Ozone free
Pre-wired 120V power cord
Built-in safety switch
2-year lamp efficiency; simple twist-and-lock replacement
Limited 10-year warranty
For more information contact James Peck, or visit us on the web to view our full line of residential ventilation products.
Contact:
James Peck
Continental Fan Manufacturing Inc.
E: jpeck@continentalfan.com   
T: 800-779-4021 Ext: 309
F: 937-233-5534
W: continentalfan.com