Custom Spring Probes Tailored to Demanding Requirements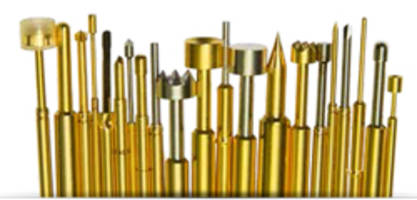 Everett Charles Technologies leverages decades of expertise to optimize electrical and mechanical performance of custom spring probe solutions
Fontana, California, June 2017: Everett Charles Technologies (ECT) has the experience and knowhow to provide custom spring probes for just about every application. ECT's custom tailored probe solutions are designed taking into account all mechanical, electrical, and environmental customer requirements, which result in an optimized solution.
Beyond a comprehensive portfolio of off-the-shelf spring probe solutions for a wide range of applications, ECT offers solutions fully designed to customer specifications when standard products don't meet an entire set of requirements. Whether a requirement is as simple as special tip geometry or as complex as a custom coax RF probe, ECT's engineers combine state-of-the-art design, materials and production know-how, with ECT's long-term experience in spring probe technology to deliver results that truly meet customers' expectations.
ECT custom projects begin with direct engineer to engineer dialog with the customer to ensure design requirements are fully understood and that all design work leads to a solution fully aligned with their needs.
Electrical and mechanical analysis prior to hardware build, including proficient RF simulation when needed, increases design integrity. ECT's well-defined process ensures a smooth release to production and on-time delivery to support the customer's time-to-market targets.
Tony DeRosa, Product Manager, commented: "We keep expanding our probe portfolio while we are open for customer specific requests. By constantly expanding our understanding of innovative and reliable designs, materials, and production processes, we are able to meet advanced requirements that go beyond today's standard applications."
To learn more about how easy it is to start a special probe project at ECT, click here: https://shop.ect-cpg.com/support/special-probe-request/
About Everett Charles Technologies (ECT):
ECT (headquartered in Fontana, CA) is the world's leading manufacturer of POGO ® contact probes for a wide range of applications including industrial, medical, military, connectors and testing bare and loaded printed circuit boards. We invest in R&D programs which address engineering and materials issues that will impact contact solutions for the next decade. Methods for maintaining electrical continuity in miniature probes, improved spring technologies and probe head geometries are under continual review. ECT POGO ® contacts are marketed worldwide through sales offices in the United States, Europe and Asia. ECT is a company of Xcerra™ Corporation, which provides capital equipment, interface products, and services to the semiconductor, industrial, and electronics manufacturing industries. Xcerra Corporation offers a comprehensive portfolio of solutions and technologies, and a global network of strategically deployed applications and support resources. Additional information can be found at www.ectinfo.com and http://www.Xcerra.com.
trade press interested in technology, products
please contact
Barbara Loferer
Xcerra Corporation
825 University Avenue
Norwood, MA 02062-2643
Phone : +49 8031 406 216
E-mail: barbara.loferer@Xcerra.com
More from Materials