Custom Ratchets from Lowell Ensure Successful Designs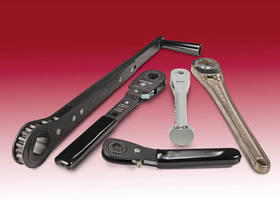 WEST BOYLSTON, MA – OEM motion control designers who need custom engineering support for mechanical applications will be interested in Lowell Corporation's extensive experience in modifying its off-the-shelf ratchet arms, handles, and ratchet and roller clutches to meet specific control requirements.



Typical users include utilities, the military, and manufacturers of products such as paper and metal processing machinery, conveyors, heat exchangers, chain binders, and welding clamps. Applications include adjusting, indexing, backstopping, turning, tightening and loosening, feeding, positioning, braking, overrunning, and clamping.



A custom modification may be as simple as a special marking or a drilled hole for drainage. Or it may be something more such as articulation, special material construction, a non-standard gear opening, shape, or size, the addition of a knob or other special control for regulating speed or direction, or special surface and/or internal coating for corrosion resistance.



If desired, Lowell can work with a customer's staff from the earliest stages of the design process to ensure seamless integration of system components and highest quality outcomes. Or, if a design has already been finalized, Lowell can also build to either customer or government specifications. Designers are encouraged to contact Lowell's engineering department at any phase of their project.



For more information about Lowell custom motion control solutions, stock ratchet arms, handles, and ratchet and roller clutches, or for a full-line catalog, call 800/456-9355 or 508/835-2900, visit the company's web site: www.lowellcorp.com, or email customerservice@lowellcorp.com.





More from Laboratory and Research Supplies and Equipment