Custom Lift Assist Equipment Helps Productivity and Protects against Operator Injuries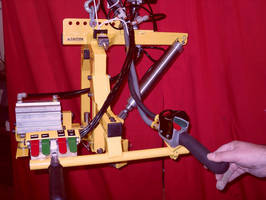 Ergonomic Partners was recently approached to design and provide custom lift assist equipment for a global safety equipment manufacturer. After several near misses on major injuries due to dropped and mishandled parts the customer was looking for a new way to handle their parts. In addition the operators were risking shoulder and back injuries due to awkwardly having to place the heavy discs into the lathes. The operators were manhandling the parts from a cart in the horizontal position like a pancake and setting on edge to then roll the part into the lathe. This was a risky move as the operator had to balance the part on edge and adjust the chuck, then muscle the part into place.

After an onsite review and consultation with the operators Ergonomic Partners provided a custom lifting device to assist operators loading and unloading the discs of lead up weighting to 100 pounds. The operators can now grip the part from the cart in a horizontal position and pitch the part 90 degrees. The tool is suspended from a balancer so the operator can float the part into the chuck for the final positioning. The operators can now do their job with greater efficiency while not worrying about injury.

Video of the tool can be seen at www.youtube.com/watch?v=4Q-d_931hXI .

More from Agricultural & Farming Products