Crown's Ergonomic Alleviator(TM) II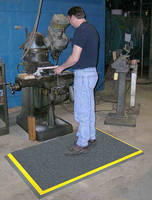 Crown Mats and Matting's popular Alleviator II is designed to protect workers by adding balance, increasing blood circulation through lower limbs, and minimizing if not eliminating fatigue.

Use the OSHA- and ADA-compliant Alleviator II in dry areas such as factories, assembly lines, service areas, and anywhere workers stand for prolonged periods of time.

The Alleviator II is black with yellow beveled edges to present a clean look and help promote safety standards.

For more information, visit www.crown-mats.com or call 800-628-5463.

More from Construction Equipment and Supplies