Crestron DMPS3-4K Presentation Systems Receive Joint Interoperability Test Command (JITC) Certification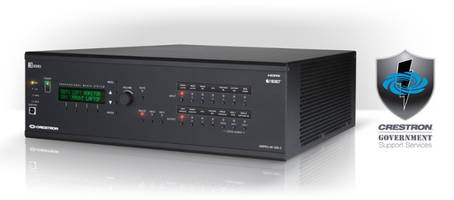 Defense Information Systems Agency (DISA) Adds Crestron to Unified Capabilities (UC) Approved Products List (APL); DMPS3-4K-150-C is the first 4K switching & control solution on the APL
Rockleigh, NJ - May 5, 2017 - Crestron today announced that its latest DMPS3-4K DigitalMedia™ Presentation Systems (DMPS3-4K-300-C, DMPS3-4K-200-C), used in conjunction with a family of Crestron scalers, receivers, transmitters, and touch screens, received approval by the Joint Interoperability Test Command (JITC) of the U.S. Department of Defense Information Systems Agency (DISA). The DMPS3-4K-150-C was the first 4K switching and control solution on the Approved Products List (APL). Based on results of stringent Information Assurance (IA) assessments of its systems, which were approved by the Chief of Homeland Security and Information Portfolio, the Crestron family of products is now listed on DISA's Unified Capabilities (UC) APL.
The Crestron DMPS3-4K all-in-one presentation systems meet the critical requirements of the Unified Capabilities Requirements (UCR). The JITC certification earns the DMPS solutions the highest levels of security clearance and allowing them to be deployed in highly secure federal government network applications.
"The DMPS3-4K-150-C presentation system was the first 4K switching and control solution on the Approved Products List (APL). Now, with the addition of the DMPS3-4K-300 and -200, we have more all-in-one 4K presentation systems you can trust, providing the most flexibility and enabling our government partners to standardize on a single platform," said Jeremy Button, Director of Federal Government Sales.
3-Series® DMPS Presentation Systems
The new DMPS3-4K-300 and DMPS3-4K-200 feature 4K60 video switching, full support for HDCP 2.2, Control Subnet. Setup and touch screen control are simple using the configuration tool.
DMPS3-4K-300 and -200 combine video switching and scaling up to 4K60, audio amplification, built-in mic mixing, audio DSP, HDBaseT® connectivity, and a powerful built-in Crestron 3-Series Control System® all-in-one, eliminating the need for separate components and connectivity. Plus, with basic plug-and-play features and the web-based configuration tool, most rooms are fully operational without any programming.
DMPS delivers bit-for-bit, zero latency HD video switching and display, at a fraction of the cost of less robust alternatives. It's fully HDBaseT certified and supports SNMP, CEC device control, and EDID resolution management.
Designed to reside on enterprise networks, DMPS3-4K systems provide secure, reliable interconnectivity with IP-enabled touch screens, computers, mobile devices, video displays, media servers, security systems, lighting, HVAC, and other equipment - whether on the premises or across the globe.
Crestron JITC Certified products:
Presentation Systems: DMPS3-4K-300-C, DMPS3-300-C-AEC, DMPS3-4K-200-C, DMPS3-4K-150-C, DMPS3-4K-100-C, DMPS3-4K-50
Receivers: DM-RMC-4K-100-C, DM-RMC-4K-SCALER-C, DM-RMC-SCALER-C, DM-RMC-200-C
Transmitters: DM-TX-4K-202-C, DM-TX-4K-302-C, DM-TX-201-C, DM-TX-200-C-2G, DM-TX-401-C
3-Series Control Systems: CP3N, PRO3, AV3
Switchers: DM-MD8X8, DM-MD16X16, DM-MD32X32
DM® Input Card: DMC-4K-C-DSP-HDCP2
HDMI® Input Cards: DMC-4K-HD-HDCP2, DMC-4K-HD-DSP-HDCP2
Output Card for DM Switchers: DMC-4K-CO-HD-HDCP2
Modular Output Card: DMC-4K-HDO
VGA/Video Input Card for DM Switchers: DMC-VGA
Learn more
To learn more about Crestron solutions that ensure secure control and communications in military and government applications, please visit aplits.disa.mil/processAPList.action or contact Pete Baca, Crestron Director of Global Government Accounts: pbaca@crestron.com.
To learn more about our 3-Series DMPS Presentation Solutions, visit www.crestron.com/DMPS.
About Crestron
At Crestron we build the technology that integrates technology. Our automation and control solutions for homes and buildings let people control entire environments with the push of a button, integrating systems such as AV, lighting, shading, security, BMS and HVAC to provide greater comfort, convenience and security. All of our products are designed and built to work together as a complete system, enabling you to monitor, manage and control everything from one platform.
Our products are backed by more than 90 fully-staffed offices that provide 24 x 7 x 365 sales, technical, and training support across the globe. In addition to its World Headquarters in Rockleigh, New Jersey, Crestron has sales and support offices throughout the U.S., Canada, Europe, Asia, Latin America, and Australia. Discover Crestron by visiting www.crestron.com.
More from Electrical Equipment & Systems