Crestron DM NVX™ First and Only AV-over-IP Solution to Receive JITC and FIPS 140-2 Certifications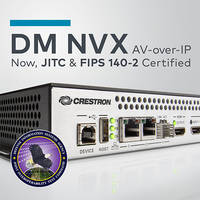 Certifications clear the way for U.S. federal government agencies to standardize on industry-leading high-performance AV-over-IP platform
Rockleigh, NJ – August 12, 2019 – Crestron, a global leader in workplace technology, announced today that its DM NVX™ AV-over-IP product line has received Joint Interoperability Test Command (JITC) approval by the U.S. Department of Defense Information Systems Agency (DISA), and FIPS 140-2 validation by the NIST (National Institute of Standards and Technology), an agency of the U.S. Department of Commerce. DM NVX is the first and only AV-over-IP technology to receive these U.S. federal government certifications, which clear the way for DM NVX to be safely deployed in the most secure information network infrastructures.
"Crestron is committed to providing our federal government with secure, hardened, mission-critical solutions it can trust. The latest proof of that commitment is JITC and FIPS 140-2 certifications for DM NVX products," said Jeremy Button, Director of Federal Government Sales at Crestron. "Unlike other products that are merely FIPS compliant, DM NVX is FIPS 140-2 certified. Combined with JITC certification, this gives our government partners the ability to standardize on a single, flexible, high-performance AV-over-IP platform that's also highly scalable."
The twelve products that comprise the current DM NVX product line join a growing list of 44 Crestron products to receive JITC certification to date, a testament to Crestron's commitment to meeting the most stringent government and military requirements in a wide range of spaces, and for the most demanding applications, including: command and control centers; network operation centers; classrooms; field command operations; and executive crisis management and communications.
Fishtech Group, a leading cybersecurity solutions provider to government and enterprise clients, selected Crestron DM NVX as the technology backbone for its mission-critical Cyber Defense Center video wall. "DM NVX gives us the ability to control all of the audio and video distributed throughout our facility from a centralized location, always ensuring that our information is safe and secure," said Matt Skeen, Director of Information Technology.
The standard in AV-over-IP
More than just distribution of flawless 4K60, 4:4:4, and HDR video, DM NVX is a complete AV-over-IP solution. It also pushes audio, control, and USB 2.0 through a single encoder/decoder, significantly reducing system costs and adding flexibility. DM NVX delivers all this over existing 1Gb infrastructure with no latency, eliminating the high cost and disruption of running new cabling. Additionally, DM NVX supports more video formats than any other manufacturer's AV-over-IP product.
For a complete list of Crestron products that ensure secure control and communications in military and government applications, please contact Jeremy Button, Director of Federal Government Sales at jbutton@crestron.com.
About Crestron
At Crestron we build the technology that integrates technology. Our automation and control solutions for homes and buildings let people control entire environments with the push of a button, integrating systems such as AV, lighting, shading, security, BMS and HVAC to provide greater comfort, convenience and security. All of our products are designed and built to work together as a complete system, enabling you to monitor, manage and control everything from one platform.
Contact: 
Ron Epstein
Crestron Electronics, Inc.
Phone: (201) 564-6047