Covers Help Prevent Misuse and Tampering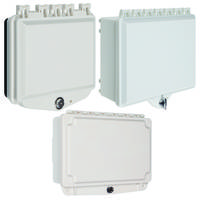 September 15, 2020 – Super tough, STI's white Polycarbonate Covers help prevent theft and vandalism to larger keypads, access controls, volume and lighting controls, and much more.
Extremely difficult to break, these covers are molded from thick white polycarbonate material which conceals the contents (also available in clear). Covers increase the life and reliability of units by protecting them from accidental or intentional damage.
Nine models available. Constructed with a strong piano style hinge, options include: an open or enclosed back box, a key or thumb lock, and custom printing on the lids. They are part of a complete line of polycarbonate covers. Backed by a three year guarantee against breakage in normal use.
To order or for more sales information on the STI Polycarbonate Covers, call 248-673-9898, fax 248-673-1246, email [email protected] or visit www.sti-usa.com. STI's address is: 2306 Airport Road, Waterford, MI 48327-1209.