Cost-Effective Protection Without Enclosures: IP 65-66 Rated REO-USA Components at APTA EXPO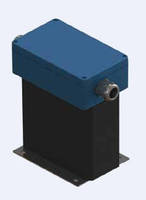 INDIANAPOLIS – The elements can wreak havoc on exposed components, be it dust and debris, rain, saltwater or human-inflicted, hose-jet cleaning solutions. And special enclosures for external components can cost a bundle.



Solutions are readily available, however, via fully encapsulated REO-USA sinusoidal filters, line reactors, load reactors and other components with ingress protection ratings including IP65-66. Visitors to booth 4300 during the October 12-15 APTA EXPO at the George R. Brown Convention Center in Houston, can see firsthand look at how these components pay their way.



They can be mounted anywhere, underneath trains, on top of vehicles (a hybrid bus maker already has) or other external locations. Even when exposed to the elements, the components themselves are fully protected. They simply shut out dust and shrug off moisture and other aggressive attackers, whether from Mother Nature or manmade.



In addition to high IP ratings, components can also be designed with a pollution degree of PD4, the highest possible rating according to IEC 60664-1. The pollution degree is a classification of the amount of dry pollution and condensation in any given environment. This is an important factor to consider for any component mounted outside of the train.



"Our IP66 rated components offer a highly cost-effective solution for railway applications," says REO-USA Sales Engineer Alex Ward. "A range of input, output and DC-link chokes, braking resistors and sinusoidal filters provides unsurpassed flexibility for mounting components externally.  These encapsulated products also save both the space and the expense of special enclosures."



See the newest IP66 rated REO-USA components in booth 4300



Ward notes that REO-USA's latest fully encapsulated and IP66 rated sinusoidal filter with terminal box will be displayed at APTA. He and other specialists from the Indianapolis-based manufacturer can provide details on encapsulation technology surrounding the firm's extensive array of components for railway applications.



"Careful design considerations such as creepage/clearance distances and selection of encapsulation material all influence the design of components meant for exposure to the elements. Attention to these details ensures that pollutants are not introduced, maintaining efficient functionality and extending product lifetime," states Ward.



"Components that can perform for decades while withstanding aggressive environmental conditions are critical for railway equipment and service providers. So is saving money wherever possible, which is always a plus with corporate investors as well as transportation authorities. Our IP66 rated components provide a strong option for everyone to consider on all fronts."



For the latest updates on REO-USA's booth at APTA, visit www.reo-usa.com.



More from Material Handling & Storage