Cost-effective CTH Series LED-based Touch Sensor Display Features an Intuitive Interface for Users that Eases Customer Interactions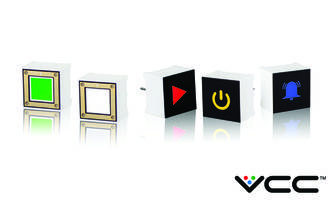 VCC's Capacitive Touch Sensor Display Simplifies Device Design and Manufacturability
SAN DIEGO, CA - (December 1, 2016) - VCC, the global leader in indication and specialty illumination solutions, has developed a capacitive touch sensor display that provides a more intuitive interface to ease and accelerate user interactions. The LED-based CTH Series capacitive touch sensor display combines graphic interactive control with color identification to make the interface more user-friendly. Utilizing sensitive capacitive touch sensing technology, the CTH Series simplifies designs and offers cost savings by eliminating the need for a traditional switch.
The LED display produces a high-optical clarity, and is offered with or without a wide variety of standard graphic overlays and colors. VCC can also develop custom icons to meet most any application requirement. Offered in a wide variety of colors including red, yellow, blue, pure green and white, the LED back-lit CTH Series. The robust design has no moving parts, improving reliability and increasing the operational life.
Featuring a through hole design, the capacitive touch sensor display is available in one standard size 15mm x 15mm x 11.0mm with an industry standard pitch of 0.100".
"Featuring translucent icons illuminated with different colored LEDs, the user friendly CTH Series display offers superior device interaction by communicating a singular action to users such as on/off, alarm status, and more," said Sannah Vinding, Director of Product Development and Marketing at VCC. "The integrated functionality of the compact CTH Series capacitive touch sensor display eliminates the need for designing-in a traditional switch. Unlike mechanical membrane switches or mechanical push buttons, capacitive touch keypads have no moving parts so there is nothing to wear out."
The CTH Series is used in a wide range of applications including appliances, consumer equipment, gaming devices, industrial control displays, media players, medical devices, mobile communication devices, PDAs, point of sale terminals, portable instruments, touch screen monitors and more.
For more information on the CTH Series and to view the product video, click here http://vcclite.com/new-product-introduction-capacitive-touch-sensor-display/
About VCC
Based in greater San Diego, California, Visual Communications Company, LLC, is the leader in illuminated components. VCC is the recognized leader in the development and manufacturing of innovative LED, incandescent, neon and specialty indicator light solutions and light pipes for global markets including aerospace, food service, people movers, transportation, medical, IoT and industrial. VCC provides custom and standard solutions with their design engineering expertise, superior customer service and broadest product line in the industry to exceed user experience. With 40+ years of experience, VCC and its distributors serve customers all over the world. VCC is changing the way of communication visually and indications needs. Learn more at www.vcclite.com.
Editor Contact Information
Sannah Vinding, VCC
(760) 573-4448
Garth Miller, ABM
(919) 424-0090
garth.miller@allbusmarketing.com
More from Services