Corrosion Protection Without Hydrogen Embrittlement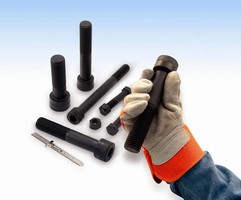 Corrosion Protection Without Hydrogen Embrittlement For High Strength Bolts And Fasteners Provided By TRU TEMP Finish

Eden Prairie, Minnesota: High strength bolts and critical fasteners take on a protective and attractive black oxide finish when treated with TRU TEMP low temperature, non-polluting black oxide from Birchwood Casey Metal Finishes.

The TRU TEMP process forms a non-dimensional, deep black finish with long-term corrosion resistance -- the ideal surface finish for high tension bolts, nuts and similar fastening devices. The TRU TEMP finish also prevents galling on critical thread surfaces.

The satin black magnetite coating is just 0.5 microns thick (20 millionths) with no effect on material hardness or tensile strength. The finish withstands up to 100-200 hours of neutral salt spray (ASTM B 117) or several hundred hours of humidity (ASTM D 1748), verified by independent testing. This high level of corrosion protection is important for both part storage and shipment in corrosive atmospheres including ocean shipment.

Conventional 290°F hot oxide processes are dangerous to operate because of their tendency for splattering and boilover. On the other hand, commonly used phosphate processes operate at 180-200°F, but cause hydrogen embrittlement of the steel due to extended contact with acidic process baths that tend to etch the steel. By contrast, the TRU TEMP solution operates at only 200°F and uses mild alkaline chemistry that does not embrittle the steel. Consequently, the TRU TEMP system is a very safe and effective option for high quality, in-house black oxiding that improves quality with a short turnaround time.

Total processing time is just 25 minutes and operating cost (including chemical and heating cost) averages just $.01 to .03 per pound of finished work. Small parts can be processed in bulk loads with larger parts finished on racks. Most existing tank lines can be retrofitted for TRU TEMP at low cost. New process lines are available at modest cost from Birchwood Casey. The process can be automated, at low cost, through the use of a CNC programmable hoist system.

In addition, the TRU TEMP solutions contain no EPA regulated chemicals, so there is usually no need for waste treatment equipment. In most areas, the rinse waters are sewerable as non-hazardous discharge. This benefit simplifies the installation and minimizes the capital investment needed to set up the process line.

Want more information?

Call 952-937-7931

See at www.birchwoodcasey.com

Email: info@birchwoodcasey.com

Or write to Birchwood Casey, 7900 Fuller Road, Eden Prairie, Minnesota 55344-9702

Fax: 952-937-7979.


More from Computer Hardware & Peripherals