Coriolis Mass Meters from AW-Lake Indicate Low Paint Supplies in Airplane Wing Coating Process in Aviation Manufacturing Facility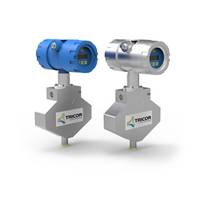 Oak Creek, Wisconsin- February 20, 2019- A robotic paint process used by an aviation manufacturing facility to coat airplane wings utilizes TRICOR Coriolis metering technology from AW-LAKE COMPANY to detect the presence of air bubbles in paint supply lines as an early warning of low paint volumes. The automated paint operation includes the application of primer, color coats and topcoat onto the airplane wings.
Compatible with Class 1, Division 1 and EX environments, the TRICOR TCM 0325 Coriolis Mass Flow Meters detect air bubbles by monitoring the paint's specific gravity. When the paint in pressure vessels begins to empty, air is introduced into the paint stream that results in a downward spike in paint gravity. Low paint specific gravity levels serve as an early warning for over-agitation and out-of-paint conditions. Running out of paint results in extreme expense in downtime to rework the wing.
When used in conjunction with servo-driven paint gear pumps, the TRICOR Coriolis Flow Meters also provide high-accuracy flow verification, eliminating a manual flow calibration procedure to save paint and time. The TRICOR CLASSIC Series TCM 0325 Coriolis Mass Flow Meter has a maximum mass flow rate of 325 kg/hr (12 lb/min) or 49 bbl/day. In volumetric terms, this translates to 50-4000 cc/min. The nominal meter size is DN4 (1/8"), and the meter is rated for process pressures up to 200 bar (2900 psi). This feedback to the control system enables the system to track paint usage by type and color.
A SignalFire Ethernet Interface Module provides a Modbus interface to integrate five flow meters associated with each robot to a high-speed wireless telemetry system that eliminates thousands of feet of Ethernet cabling in the C1D1 EX area. The wireless sensor control system also enables operators to configure and communicate with flow meters from a remotely located control room.
Read the full application story at https://aw-lake.com/wp-content/uploads/2019/01/Application-Stories-Aviation-Paint-TRICOR-2018.pdf . Information on the TCM 0325 TRICOR Coriolis Mass Flow Meter is available at https://tricorflow.com/classic-series-tcm-0325-coriolis-mass-flow-meter/ . Or contact Marcia Reiff, Marketing Manager, at 800-850-6110, email mreiff@aw-lake.com.
About AW-Lake Company
AW-Lake Company, a TASI Group company, is a leading North American design, manufacturing and service company of flow measurement technology for the fluid control needs of various industries, including oil & gas, chemical processing, paints & coatings, hydraulics & pneumatics, food processing, and fluid power. Together with its European sister companies, KEM-Kueppers, Vogtlin Instruments, and LitreMeter, AW-Lake services and distributes a broad portfolio of flow measurement instrumentation throughout North America, South America, Europe, and Asia. For information, please contact Marcia Reiff, Marketing Manager, at 800-850-6110, e-mail mreiff@aw-lake.com, or visit AW-Lake's Web site at www.aw-lake.com.
About the TASI Group
The TASI Group of Companies is comprised of three technologically advanced product platforms commonly linked by a disciplined focus on Test, Measurement, and Assembly. Each TASI company delivers products and services to today's world manufacturing environments, focusing on Automotive, Medical Devices, Oil and Gas, Plastic Containers, Consumer and General Industrial markets. For more information about the TASI Group, visit their Web site at www.tasigroup.com
Contact:
Marcia Reiff
2440 W. Corporate Preserve Dr. #600
Oak Creek, WI 53154 USA
262-898-2511
More from Mechanical Power Transmission