Coperion Provides Extruders for Biocompounds to Sirmax/Fast Track ZSK Extruders: Greatly Shortened Lead Times and Rapid ROI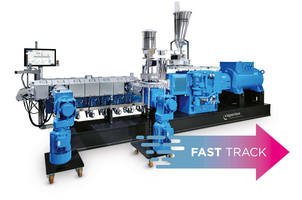 Stuttgart, October 2020 – Italian compounder Sirmax goes forward to invest in technological innovation, continuing strongly in the direction of a sustainable business. The company from Padua (Italy) has expanded its production capacity for sustainable plastics, relying upon Fast Track ZSK extruders from Coperion. These new models stand out for their especially short lead times and subsequent rapid ROI. In Sirmax's case, Coperion designed two ZSK 70 Mc18 twin screw extruders especially for processing bioplastics. Only five months after placing the order, both Fast Track ZSK extruders have commenced production.
Sirmax installed the ZSK 70 Mc18 extruders, each with 70 mm screw diameters, ZS-B side feeders and ZS-EG side devolatilization, at Microtec Srl's Padova (Italy) location. Sirmax has held a 70% interest in Microtec Srl for the past year, a manufacturer of biocompounds marketing its products under the name BioComp®.
Fast Track Extruder with Proven ZSK Quality
With its Fast Track initiative, encompassing comprehensive internal and external process modifications, Coperion can now realize certain designs of its ZSK twin screw extruders with especially short lead times. Just as they have always been, these extruders are built exclusively with proven, high-quality components, including the high-performance drive and high-quality materials for the process section that ZSK extruders are famous for, to name just a couple of examples. Moreover, Coperion's entire process engineering expertise flows into the Fast Track twin screw extruders. Each process step is designed individually and optimally, all coordinated for the application in question, which in the case of Sirmax's extruders is bioplastics processing.
Comprehensive modifications at Coperion, such as in warehousing, as well as numerous measures at suppliers' locations, enable turnaround of ZSK Fast Track extruder orders with lead times of only five months. Compounders profit from expected high throughput rates and rapid ROI. Additionally, using exclusively high-quality, proven components provides the same service life as well as high process stability with constant very good product characteristics that distinguish all ZSK twin screw extruders.
Added Value for Sirmax Thanks to Short Lead Time
Microtec Srl will manufacture compounds based on starch biopolymers, co-polyesters (PBAT), polylactic acids (PLA), and polybutylene succinate (PBS) on the two Coperion Fast Track ZSK 70 Mc18 extruders. These bio-based materials are mainly used in the blow molding and in the injection molding market.
Massimo Pavin, CEO of Sirmax, explained: "With the two new ZSK extruders from Coperion, we can manufacture a broad palette of sustainable compounds that optimally expand our current Sirmax product portfolio in harmony with our multiproduct strategy. Thanks to the fast delivery of the Coperion extruders, we have succeeded in markedly expanding our production capacity for sustainable plastics on very short notice. For us, this is an important step in successfully implementing our innovative corporate strategy, that looks to the future while always maintaining solid foundations in flexibility, product quality and speed."
About Coperion
Coperion is the international market and technology leader in compounding and extrusion systems, feeding and weighing technology, bulk materials handling systems and services. Coperion designs, develops, manufactures and maintains systems, machines and components for the plastics, chemicals, pharmaceutical, food and minerals industries. Within its three divisions – Polymer, Equipment & Systems, and Service – Coperion has 2,500 employees and nearly 30 sales and service companies worldwide. Coperion K-Tron is part of the Equipment & Systems division of Coperion. For more information visit www.coperion.com or email [email protected].
About Sirmax
Sirmax Group, headquartered in Cittadella (Padova - Italy), is the first non-integrated European manufacturer, among the first in the world of polypropylene compounds for all sectors of use - automotive, household appliance, power tools and household, electrical, electronic, construction, furniture - and in the distribution of plastics. Active since the 1960s, it now boasts six production plants in Italy, two in Poland, one in Brazil, two in the USA, two in India, a sales office in Milan, foreign branches in France, Spain and Germany. Sirmax has gained important market shares in Europe, the Americas and Asia, thus becoming a global reference for the international market. Clients include leading industry brands such as Whirlpool, Bosch-Siemens, Electrolux, Karcher, Philips, Honeywell, ABB, Technogym, FCA, Volkswagen Group, Daimler, PSA (Peugeot Citroen Group).
Editor Contact and Copies: 
Dr. Jörg Wolters, KONSENS Public Relations GmbH & Co. KG,
Im Kühlen Grund 10, D-64823 Gross-Umstadt
Tel.: +49 (0)60 78/93 63-0, Fax: +49 (0)60 78/93 63-20
E-mail: [email protected], Internet: www.konsens.de
Contact:
Kathrin Fleuchaus
Marketing Communications
Coperion GmbH
Theodorstrasse 10
70469 Stuttgart, Germany
Phone +49 (0)711 897 25 07
Fax +49 (0)711 897 39 74
[email protected]
www.coperion.com