Comprehensive Solutions for Keeping Machines Operating Safely and Productively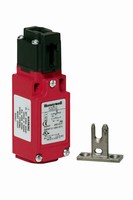 Honeywell expands line of safety switches

Minneapolis, Minn.- November 29, 2006- Honeywell (NYSE:HON) announces it has effectively doubled its safety switch product line so both end-users and OEMs have more choices for keeping machines and equipment operating more safely and productively. Safety switches are generally used to turn off equipment in the event of an emergency and to control access to dangerous areas, machinery or equipment.

Honeywell has added four new product families:
KEY-OPERATED SAFETY SWITCHES
GKE - IEC 20 mm mounting and IEC pricing. Available with 20mm or ½ inch NPT conduit.
GKE two key openings and either 1NC/1NO or 2NC switching capability.
GKN - Common footprint and three contacts for safety monitoring, along with a flexible key. With four key openings, the GKN has up to three normally closed safety contacts and drop-in capability.
GKS - Designed to trap-and-hold the key until the hazard has been removed, the GKS uses a solenoid for either "power-to-lock" or "power-to-unlock" situations. Complies with North American, European, and Chinese standards.

NON-CONTACT SAFETY SWITCHES
FF and FFS (available January, 2007) - Non-contacting, hard-guarding solutions cope with "slop" in the application or a large actuation window to reduce alignment issues between the switch and magnet actuator.

End-users and OEMs can choose from a large variety of safety switch sizes, sealing alternatives, enclosure materials, actuator styles, operating temperatures and contact options. Most of these switches comply with international standards and approvals, such as UL, CSA, CE, NEMA and USDA. Potential applications include conveyor belts, pick-and-place packaging and assembly equipment, plastic molding equipment, semiconductor manufacturing, and woodworking, textile and printing machinery.

For more information, visit the Sensing and Control website at www.honeywell.com/sensing. Complete technical specifications and links to technical assistance are available on the website.

Honeywell International is a $31 billion diversified technology and manufacturing leader, serving customers worldwide with aerospace products and services; control technologies for buildings, homes and industry; automotive products; turbochargers; and specialty materials. Based in Morris Township, N.J., Honeywell's shares are traded on the New York, London, Chicago and Pacific Stock Exchanges. It is one of the 30 stocks that make up the Dow Jones Industrial Average and is also a component of the Standard & Poor's 500 Index. For additional information, please visit www.honeywell.com.

More from Agricultural & Farming Products