Comprehensive LED Design Kit Offers Broad Selection of Lighting Technologies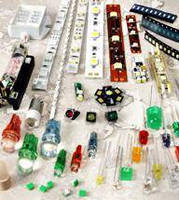 PACOIMA, CA (January 6, 2009) - JKL Components Corporation's new LED designer kit GB-LED1 is now available to product development engineers and technicians with the aim of speedy project completion in mind.

It includes a full spectrum of LED technologies, and contains a full compliment of LED products appropriate for most design needs.

GB-LED1 contains component LEDs, including surface mount and right-angle, rigid bars and flexible strips for linear lighting and LCD backlighting, high-power 1-3-5 Watt output for general lighting, and incandescent replacement styles such as festoon and wedge based. The kit also has sockets, accessories, RGB LEDs, various color options including a wide variety of white shades, LED drivers, ultraviolet devices, flashing, G-4 and MR16 formats.

Special lenses and color filters for design concept prototyping are also included.

For a complete list of parts and specs, visit www.jkllamps.com/gb-led1

JKL Components Corporation offers solutions that encompass a wide variety of lighting technologies, including LED, CCFL, ultraviolet, incandescent and gas-filled lighting. JKL is registered ISO-9001 and products are RoHS Compliant.

For additional information, please contact

Sherry Carpenter, General Manager of JKL Components Corporation, 13343 Paxton Street, Pacoima, CA 91331. Telephone (818) 896-0019. Fax (818) 897-3056. Email sales@jkllamps.com. www.jkllamps.com.

More from Machinery & Machining Tools