Compact Size Worm Gear Still Proves Robust Specifications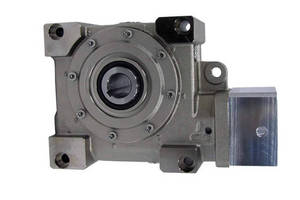 New Worm Gear from WITTENSTEIN: V-Drive Size 040

The alpha V-Drive family has grown by one member with the addition of the size 040. The VDH 040 from WITTENSTEIN alpha expands the current servo worm gear offering and is aimed at meeting the compact design demands of customers.

This product boasts the following servo worm gear benefits:

o High duty cycle (> 60%)

o High rated speed

o Highest power density

o Dynamic application

o Very low running noise

The new V-Drive 040 answers requests for a more compact solution and is capable of meeting the highest precision and dynamic demands of all popular servo applications. The worm gear especially succeeds in the industries of machine tool, automation as well as packaging.

WITTENSTEIN is committed to being a world-class partner for customers of its intelligent mechatronic drive technology, servo systems and mechanical components. By using the power of science, innovation and forward thinking engineering, the Company strives to provide cutting-edge technology for today's motion.


More from Software