Compact, Reliable, and Worry-free Solution for Fiber Optic Communications in Outdoor Environments – HARTING PushPull SFP XS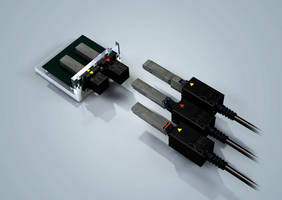 Elgin, IL – February 28, 2017 - Outdoor applications - such as cell towers, surveillance cameras, and train signaling require reliable communication connectivity specifically designed for harsh environments. Unlike indoor applications, LC Fiber Optic and RJ45 connections in these environments face problems, such as contamination from dirt that can result in poor performance or even complete loss of communication.
The HARTING PushPull SFP XS eliminates this problem with its rugged housing with pre-mounted transceiver - creating a compact, reliable, and safe solution for outdoor Communication connectivity. An ultra-short cable connector combined with the receptacle, which offers a tolerance of 56-64mm to accomodate different transceiver lengths, results in the shortest mated connector. It's lightweight design and ability to be assembled in the field makes it the ideal solution for quick installation. It also offers design flexibility as the same receptacle can be used with either LC Fiber Optic or RJ45 connections as well as multiple receiver lengths.
About HARTING
The HARTING Technology Group, family owned and based in Germany, employs more than 4,300 people globally with subsidiaries and branch offices in 40 countries. With production facilities in Europe, Asia, Mexico and the United States, the HARTING portfolio of connectivity solutions focuses on multiple levels, from the machine to the device and into the communication infrastructure. The U.S. facility in Elgin, Illinois is one of three HARTING locations that manufactures the HIS product line (HARTING Integrated Solutions - backplanes) and custom cable assemblies. The company's core business is intelligent and high-performance connection technology. HARTING works in almost all industrial markets with a focus on requirements for robust, reliable connectivity solutions.
Media Contacts:
Christina Chatfield,
VP Digital Strategy & Marketing Communications
HARTING North America
1370 Bowes Road
Elgin, IL 60123, USA
+1 (847) 717-9217
christina.chatfield@HARTING.com
More from Electrical Equipment & Systems