Comefri USA to Offer NovaTorque PremiumPlus+(TM) Motors as an Ultra High Efficiency Alternative to Induction Motors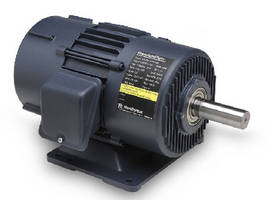 Fremont, CA — Comefri USA Inc (www.comefriusa.com), the American subsidiary of Comefri Group, a recognized leader in the development, manufacture, and distribution of centrifugal fans for the North American market, has selected NovaTorque Inc. as its supplier of ultra efficient electronically commutated permanent magnet (ECPM) motors. The two companies recently signed a supply agreement for calendar year 2014.



"Our customers are increasingly inquiring about electronically commutated and/or permanent magnet motors in pursuit of higher efficiency alternatives to the more commonly applied induction motor," says Tom Auer, Sales Manager, Comefri USA. "Incorporating NovaTorque's motor technology into our product offering provides us with an attractive response to those inquiries."



Comefri USA's R&D Director, Franco Cincotti, adds, "Our in house testing of the NovaTorque motor with Comefri Direct Drive Plenum Fans confirmed a substantial efficiency advantage over the recent NEMA Premium induction motor standards. Further, unlike induction motors, NovaTorque motors maintain their high efficiency over a very broad speed and load range, making them ideal for variable speed fan applications.  We were also impressed with the uniqueness, ruggedness and inherent reliability of their design."



Matteo Fantini, Technical Analyst at Comefri USA stated, "Prior to being introduced to NovaTorque, we viewed permanent magnet motors, despite their performance advantage, to be priced beyond what most of our customers could justify. NovaTorque's unique motor geometry and all-ferrite magnet design has allowed it to be cost competitive on both a first cost and lifetime basis, generating very rapid payback and excellent value on its modest price premium."



Driven by variable frequency drives, NovaTorque 2hp to 10hp PremiumPlus+™ ECPM motors boast rated point efficiencies of 92% to 94%, reducing motor losses (wasted energy) by 30% to 40% when compared with current NEMA Premium induction motors. NovaTorque motors conform to standard NEMA dimensions for easy substitution. Like all permanent magnet motors, NovaTorque motors require a Variable Frequency Drive (VFD) to operate. Virtually all leading providers of VFDs offer standard models compatible with NovaTorque motors.



"We are pleased to add Comefri USA to our customer base," says Emily Liggett, CEO of NovaTorque. "They are clearly among the global leaders in their field, and we look forward to serving them well." 



NovaTorque motors were recently exhibited in both the NovaTorque and Comefri USA booths at AHR Expo, January 21-23, 2014, at the Javits Convention Center in NYC, NY.



ABOUT COMEFRI USA, INC.

Based in Hopkinsville KY, Comefri USA is the American business unit of the Comefri Group, headquartered in Udine, Italy.  It is a global leader in the design and manufacture of high quality, high efficiency, centrifugal fans for commercial and industrial applications.



For more information visit www.comefriusa.com, call 270.881.1444, or email sales@comefriusa.com.



ABOUT NOVATORQUE, INC.

Based in Fremont, CA, NovaTorque is a producer of electronically commutated permanent magnet (ECPM) electric motors. The Company is dedicated to delivering the superior energy efficiency of permanent magnet motors at price points more comparable to the common AC induction motor.



For more information visit www.novatorque.com, call 510.933.2700, or email info@novatorque.com.







More from Software