Combining Access Control Biometrics Fingerprint with Smartcard Technology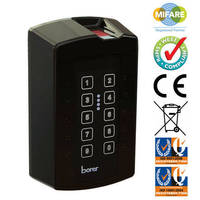 The Borer FUSION Biometrics Fingerprint is an integrated biometrics and access control reader, using Power over Ethernet (PoE) plus technology and featuring a high-performance optical sensor (500 dpi) with false acceptance rate (FAR) up to 10-8.



The FUSION Biometrics Fingerprint PIN Reader features the highest levels of secure authentication supporting multiple factors of authentication including; Card Only; Card plus Fingerprint; Card plus PIN or; Card plus PIN and Fingerprint.



On enrolment, the biometric template is stored on the smartcard in a fully encrypted AES format together with other information of the cardholder including a digital photo and access control profile. When the card is presented to the reader to gain access, the cardholder's credentials are first checked before a fingerprint template is read from the card's memory. This is then checked against a live scan of the cardholder's finger before granting access.



This approach is self contained and can be used where network access to the Access Identity Management database is missing by design or because of a network failure.



The FUSION biometric reader provides the system operator with a unique Identity Access Management approach that combines security, user convenience, cost-effective delivery and secure factors of authentication.



Fully integrated solution with biometric fingerprint registration and authentication fully integrated into the access control system. The whole solution sits on a single database and communicate over a local or wide area network (LAN/WAN). This enables biometric templates to be distributed to each door's reader over the same network.



The FUSION system maintains an audit trail of all access events and attempts which can be displayed in real time and also logged to the database for future referral.



Future Proof with firmware updates downloaded directly to the reader over the network enabling new biometric sensor technology and smartcard standards to be supported as and when they are introduced.



What's more, Borer's utilises Power over Ethernet (PoE) Plus technology which enable everything at the door to be powered over a Single CAT5/6 Network Cable – delivering enough energy to power two readers and an electric strike or magnetic lock as well as delivering data – and thus eliminating the need for additional wiring.



About BORER

BORER design and manufacture market-leading access control, attendance management and alarm monitoring hardware and software. The company consistently strive to innovate within the market sector in which they operate. BORER has committed to a 'Clean Design' policy which ensures that its products are highly energy-efficient; have low environmental impact during manufacture, and consume the minimum amount of materials. For more information on BORER, please visit www.borer.co.uk.



More from Machinery & Machining Tools