Color Counts in Cutting Stainless Steel with a Fiber Laser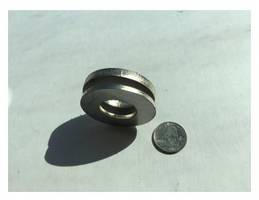 2 cut samples a 10 Ga washer and .250" washer cut from 304 Stainless Steel by fiber laser using INTO-N2 Ultra-High Pressure, High Purity Nitrogen Generator.
These washers are cut from 304 SS (thicker washer is .250" – thinner washer is .140") on a 4000W fiber laser and the assist gas was Nitrogen generated from shop air to 99.99% from INTO-N2's new high purity, high pressure Generator (model PSA-6000/PB-4500). Color of cut is a big concern when cutting Stainless Steel. The PSA-6000/PB-4500 runs compressed air through very high-quality carbon molecular sieve material, the N2 gas is generated from shop air at about 140 psi and at 175 cfm. The N2 gas is then boosted to 4,300 psi and stored in 16 high pressure bottles with a total capacity of 13,500 cf. These bottles are all contained in a skid frame with lid, that is called a cassette. The N2 gas is regulated to desired pressure at the laser. Most lasers are running 300 to 450 psi depending on requirements specified by the laser software.
Bill Craig/Director of Business Dev., Marketing, & Sales
INTO-N2
2554 Business Parkway,
Minden, NV 89423
Phone: 775-267-3035
Fax: 267-2585
More from Packaging Products & Equipment