Servo Motor Controllers and Drives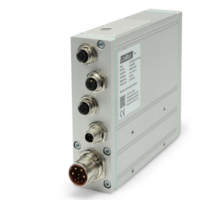 As part of the further development of the Servo Drives, LinMot presents a new Servo Drive in a compact IP65 housing. As a decentralized solution, this drive can be placed close to the drive component, which significantly reduces the space required in the control cabinet.
The D1150 series can be used for decentralized control of LinMot linear motors and rotary motors. The drive can be operated with 24-72 V DC and guarantees a phase current of up to 25 A for the motor. It has an Industrial Ethernet interface for PROFINET and EtherCAT. The device profiles CoE (CiA402) and SoE (SERCOS over EtherCAT) are also supported. Further fieldbus systems are planned for future release.
The D1150 Drive is protected against dust and water in accordance with protection class IP65 and requires no additional cover. All operating elements, switches, and interfaces, as well as the status display, are mounted behind a protective cover, which guarantee the required protection for decentralized installation.
The D1150 Drives are currently available upon request.
Contacts:
LinMot USA
LinMot USA, Inc.
N1922 State Road 120, Unit 1
Wl, 53147, Lake Geneva
USA
Tel: +1-262-743-2555
Web: www.linmot.com
Email: usasales@linmot.com
LinMot Europe
NTI AG - LinMot & MagSpring
Bodenaeckerstrasse 2
CH-8957
Spreitenbach
Schweiz
Tel.: +41(0)56 419 9191
Fax: +41 (0)56 419 91 92
Email: office@linmot.com