Cleanroom Dispensers for Gloves, Masks & Booties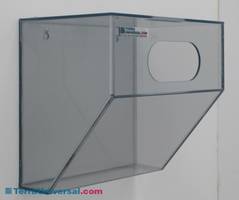 Fullerton, CA –Plastic Glove Dispensers from the leader in cleanroom manufacturing are an affordable way to both organize supplies and have them easily accessible to personnel. Dispenser designs include benchtop, as well as wall-mount. Depending on the size variety of the supply or personal protective equipment (PPE) like masks and gloves, dispensers can be ordered as single- or three-chamber models. Custom configurations are always possible at Terra.
Wall-mounted dispensers feature a swing-open lid for fast and easy restocking. Material choices include acrylic, static-dissipative PVC and polypropylene. Acrylic is a strong, fully transparent plastic. Static-dissipative PVC helps to protect sensitive components by preventing the build-up of electrostatic discharge. White, opaque polypropylene is attractive and resists damage from common cleaning chemicals.
Bulk supply stocking dispensers are also available. They are designed as "cubicles" and can be conveniently wall-mounted alongside other storage cabinets, supply dispensers or utility stations (sinks). They are ideal for glove overstock or larger items such as bagged coveralls.
Terra Universal has over 40 years of experience manufacturing modular cleanrooms and gowning rooms, along with the supplies and furnishings used in controlled enclosures. For more information about the Plastic Glove Dispensers, visit TerraUniversal.com web site.
Contact:
Mike Buckwalter
Terra Universal: Marketing
Phone (714) 578-6000
More from Cleaning Products & Equipment