Clark Heintz Tools & Equipment LLC Offers PRO 1200 Motorcycle Lift With Free Shipping* to Many Regions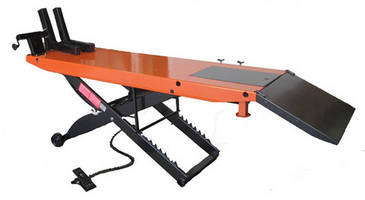 Clark Heintz Tools Equipment LLC is currently offering free shipping* with PRO 1200 motorcycle lift & Accessory Package purchase.



The PRO 1200 motorcycle lift features front wheel vise & wheel stop, 3 stage adjustable front extension, detachable loading ramp, pullout/drop through for rear tire change, stabilizer bar, pneumatic operation, and a 7 position safety lock system. It also includes a 1- year warranty.



Accessory package includes a service jack, roller plate, and seat creeper. It is priced at $225.



*Please note, there are free shipping restrictions:



* 1. Free Shipping to Commercial Location.

* 2. Home Deliveries: Clark Heintz Tools & Equipment LLC still pays the shipping, or, in some regions, they pay reduced shipping, but customer is responsible for home delivery charges.

* 3. Must Purchase PRO 1200 Lift @ $699 + PRO SP6 Accessory Package @ $225 (Jack, Roller Plate, Creeper Seat).

* 4. Some regions they offer reduced shipping costs in place of free shipping



As an additional special, right now, the PRO 1200 orange or red table lift tables are being offered at the special low price of $699 (regularly priced at $739).



For customers who are local: Pickup a lift and accessory package at shop, located at Rte 678 Rt 3A, Bow, NH 03304 and receive $100 discount.



Please contact Clark Heintz Tools & Equipment LLC at 603-234-2612.



More from Mechanical Components and Assemblies