Cisco With Built-In Telemetry and Cost Effective 32Gb/s Storage Switch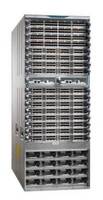 Integration with Virtual Instruments for FC SAN performance monitoring, storage networking supporting Nexus 9300-FX
Cisco Systems, Inc. announced next-generation storage networking that will help customers to analyze SAN operational performance and move to cost effective 32Gb/s solutions that grow as digital business expands.
With this announcement, the company delivers the MDS 9132T 32Gb/s storage fabric switch that offers built-in telemetry for flash memory environments; built-in telemetry sensors for streaming on the MDS 9700 32G module; integration with Virtual Instruments, Inc. for FC SAN performance monitoring; and storage networking support for the company's data center switch, the Nexus 9300-FX.
"Cisco now provides unmatched storage networking telemetry and performance options while also preserving customer technology investments," said Thomas Scheibe, senior director, product management, data center solutions, Cisco. "With greater streaming telemetry options on a variety of platforms, a cost effective and flexible SAN switch with built-in telemetry for flash memory, and SAN FC support for Cisco's Nexus data center switch, customers can elevate corporate storage environments with a full complement of SAN technologies at their disposal."
Announcements include:
The MDS 9132T 32 Port 32Gb FC switch enables customers to cost effectively scale from eight to 32 ports as demand grows. Its semi-modular design caters to entry-level, departmental and enterprise SANs, and enables customers to grow from 8 to 16 ports initially on the base, with further expansion to 32 ports using the 16-port expansion module. It supports flash memory environments (flash arrays for FCP workloads now and FC-NVMe in the near future), offering built-in telemetry diagnostics to proactively identify and correct conditions that affect all-flash array performance. The product offers director-level capabilities in a small, cost effective and expandable footprint: 32 auto-sensing line-rate 32Gb FC ports in a 1RU form factor; a large B2B credits per port (8270) to enable long distance 32Gb FC connectivity; and optimal resiliency with a field swappable port expansion modules.
SAN Telemetry Streaming on MDS 9700 32G module
SAN Telemetry Streaming provides telemetry and diagnostics data that are key to troubleshooting and providing insight into SAN fabrics. The MDS 9700 32G Module offers built-in sensors to provide pervasive data plane visibility for troubleshooting, infrastructure capacity planning, and optimization of SAN fabrics. Data is streamed real time via a high-performance, open-source universal RPC framework. The 32Gb line card with built-in telemetry can be placed anywhere in the I/O path for seamless integration and ease of operation, and streamed data can be sent to any analytics application.
Improved data center operations with Cisco/Virtual Instruments technology integration
The company offers direct technology integration with Virtual Instruments (VI) for customers in high performance industries such as finance, enterprises or large scale service providers. VI's VirtualWisdom application monitors and analyzes the performance and utilization of FC SAN infrastructure. Firm's FC SAN customers can choose to deploy VirtualWisdom non-intrusively, eliminating the need for physical TAP and hardware probes. Data will be streamed real-time from MDS 9700 32G module to the VirtualWisdom platform appliance, uniting analytics capabilities with the firm's SAN infrastructure.
FC N-Port virtualization on Nexus 9300-FX DC switch
Based on the company's Cloud Scale technology, the Nexus 9300-FX platforms are the next generation of fixed Nexus 9000 Series switches, and offer support for 16Gb FC NPV now and 32G bFC in the future. This capability builds on firm's commitment to Nexus customers who choose to consolidate their LAN and SAN infrastructure at the DC access layer by providing an migration path from the earlier generation of Nexus 5000, Nexus 5600 and Nexus 6000 to the latest generation of Nexus 9300-FX switches.
"The MDS 9132T is a cost optimized, low power entry-level SAN switch with all the bells and whistles of an enterprise switch, and has helped us achieve lower OPEX while providing enhanced workload visibility from the fabric itself," said Alessandro Spigaroli, head open systems, architecture and innovation, Cedacri Group S.p.A. "The 32Gb SAN switches ensures that our investments in SAN switches are future proofed, and we can fully realize the potential of our all flash array deployments."
"Both Cisco and Virtual Instruments play important roles in the performance, reliability and scalability of the Plex Manufacturing Cloud, so the integration of Cisco SAN Telemetry Streaming with the VirtualWisdom performance management platform has huge value for PLEX," said Joe Hollewa, senior manager, cloud operations, PLEX Systems, Inc. "This integration will dramatically increase the breadth of visibility we have into our SAN, while reducing both the complexity and cost of traditional hardware-based instrumentation."
More from Non-Industrial Products