CINTEC America, Inc. Offers Seistec: A Seismic Reinforcement System for Existing Structures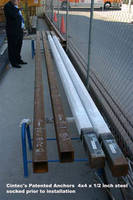 CINTEC America, Inc. of Baltimore, MD, offers Seistec, a CINTEC Reinforcing Anchor System used for seismic repair, or for retrofitting seismic upgrading of structures made of brick, stone, terracotta, adobe, or even timber. Seistec internally strengthens the integrity of wall-to-wall, wall-to-roof, and wall-to-floor constructions while remaining sensitive to the original architecture.

The Seistec (SEISmic TEChnology) process begins with an inspection of the structure by a qualified CINTEC engineer. The structure is then computer-modeled and animated using the discrete element technique to visualize potential stresses incurred during seismic loading. This unique software analysis assesses the behavioral probability and the risk inherent to the structure in order to determine the best positioning of the CINTEC Reinforcing Anchor System.

At the site, the CINTEC Reinforcing Anchor System, fashioned out of a steel bar enclosed in a mesh fabric sleeve, is inserted into the structure in need of reinforcement. A specially-developed, non-polymer, cement-like grout is then injected into the sleeve under low pressure. The grout then fuses with the mesh, expands, and shapes itself around the steel to fit the space. CINTEC uses state-of-the-art dry- or low-volume wet diamond drilling techniques to reduce or even eliminate water damage associated with conventional concrete wet drilling.

The Seistec system may be used in a wide range of masonry materials. The anchor body size and even material type can be adjusted, as can the size of the diameter of the cored hole, based on the condition of parent material.

About CINTEC

CINTEC America is a world leader in the field of structural masonry retrofit strengthening, repair, and preservation. CINTEC America of Baltimore, MD, has associated offices in Newport, Wales, UK; Newcastle, Australia; Ottawa, Canada and in India.

The principal activity of the company is the design and manufacture of the CINTEC Reinforcing Anchor System, a micro cement anchoring and reinforcing technique. CINTEC offers complete structural analysis and design services, turn-key solutions, as well as masonry repair and reinforcement anchors used for blast protection, seismic reinforcement, historic preservation and overall building strengthening.

CINTEC has been the recipient of several awards, including the 2002 Queen's Award for Enterprise in Innovation and received two U.K. Historic Bridge Awards and an Engineering Excellence Award from The Institution of Engineers, Australia in 2001.
For more information, call 1-800-363-6066; fax: 1 800.461.1862; e-mail: solutions@cintec.com or visit www.cintec.com.


More from Electronic Components & Devices